European kitchen design is on trend and features beautiful minimalism, but is it the right choice for your home?
Less is more in a European kitchen. They are designed to be sleek in design. Homes in Europe are smaller and so are kitchens, therefore the focus is on functionality and efficiency. Kitchen cabinets are no exception. In order to maximize space, European kitchen cabinets are often simple. They feature flat surfaces, flush doors, little to no hardware and do not have many decorations or "frills".
European kitchens have frame-less construction – or full overlay. This means, cabinets are constructed without a face frame attached to the front of the cabinet box. All that is visible are flat door and drawer fronts. This frame-less construction offers a seamless look while maximizing space as there is no divider in between the cabinets. Because of this frame-less construction, hinges and hardware are often hidden – adding to the seamless, streamlined aesthetic.
Cabinetry
North American cabinets tend to be larger and more ornate, with a focus on aesthetics and style.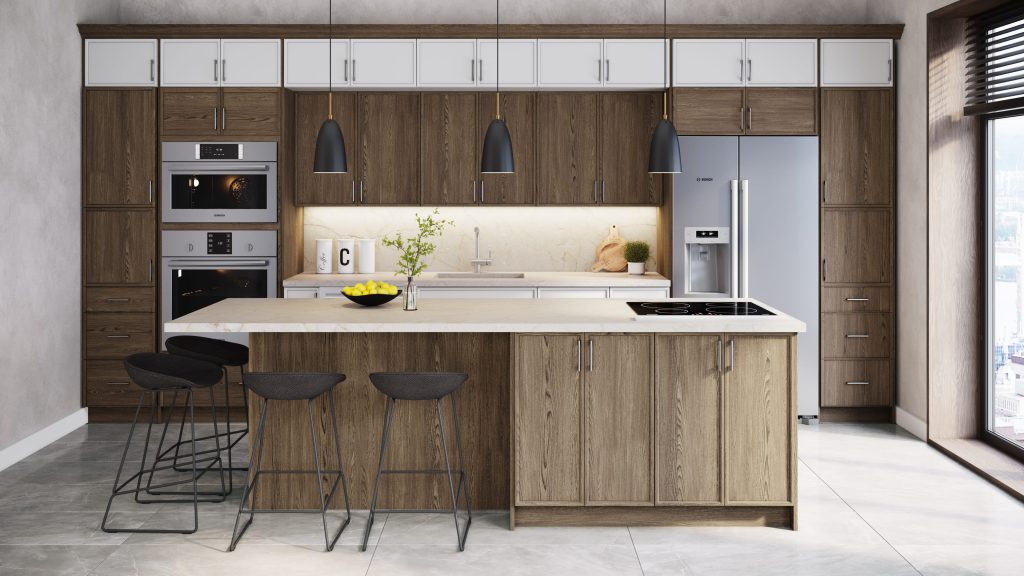 European cabinets are usually crafted from premium materials like solid wood or MDF. * They are intended to be highly practical. They have little decorative features, with a focus on practicality and functionality. European cabinets are designed to maximize space and provide ample storage without taking up too much room.
*Medium-density fibreboard (MDF) is an engineered wood product made by breaking down hardwood or softwood residuals into wood fibres, often in a defibrator, combining it with wax and a resin binder, and forming it into panels by applying high temperature and pressure. MDF is generally denser than plywood. It is made up of separated fibres but can be used as a building material similar in application to plywood.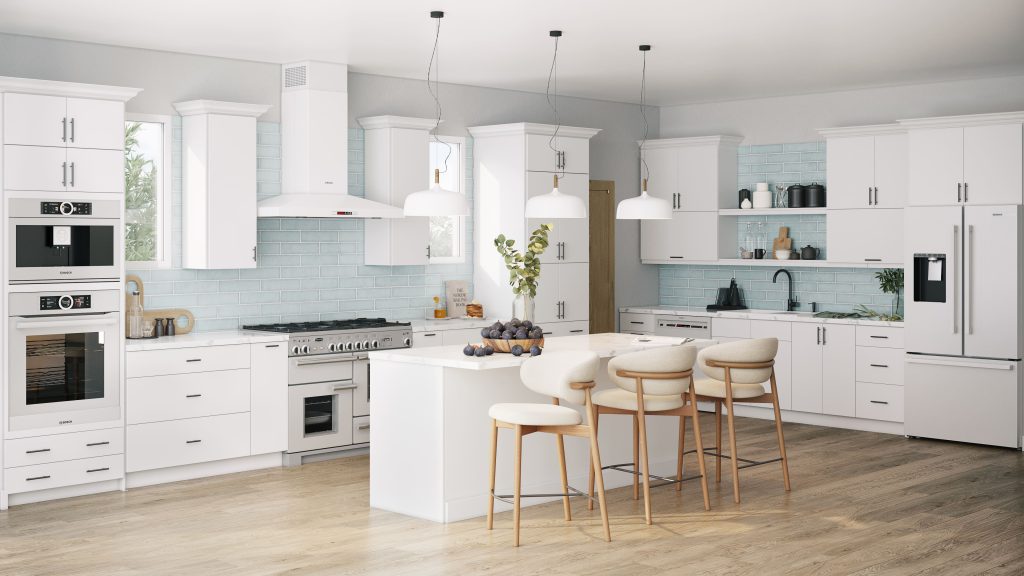 Materials Used
Materials used for European cabinets are tough, sturdy, and can endure regular use without getting damaged easily. Many European cabinets are also designed to be eco-friendly, focusing on using sustainable materials and minimizing waste.
Functionality
One of the key features of European cabinets is their functionality. These items are created to make the most of available space and offer sufficient storage without occupying too much area. Many European cabinets are also designed to be highly customizable, with various storage options and configurations available.
Conclusion
To choose your home cabinets, it's important to know the distinction between European and American cabinets. European cabinets are typically more functional and practical, while American cabinets are often more ornate and decorative. In the end, deciding between these two styles is based on what you personally prefer and what your home requires. By exploring the differences between these two styles, you can create a kitchen space that truly reflects your style and taste.
Our team of kitchen installation experts at Today's Designer Kitchens are experienced in managing kitchen projects of all scopes and design tastes. If you are interested in making the first step in a kitchen renovation, we welcome you to fill out a form online or give us a call to set up your no obligation home consultation and quote within the Niagara region.
ABOUT US

The team of professionals at Today's Designer Kitchens are dedicated to bringing high quality full service kitchen renovations that are affordable beautiful and functional.
We undertake work in all scopes and budget ranges and provide a full service kitchen solution from floor to ceiling.
Visit Our Showroom M-F 10 am-4 pm.
Address: 239 Carlton St Suite #1, St. Catharines, ON L2R 1S1
Phone: 905-641-2284