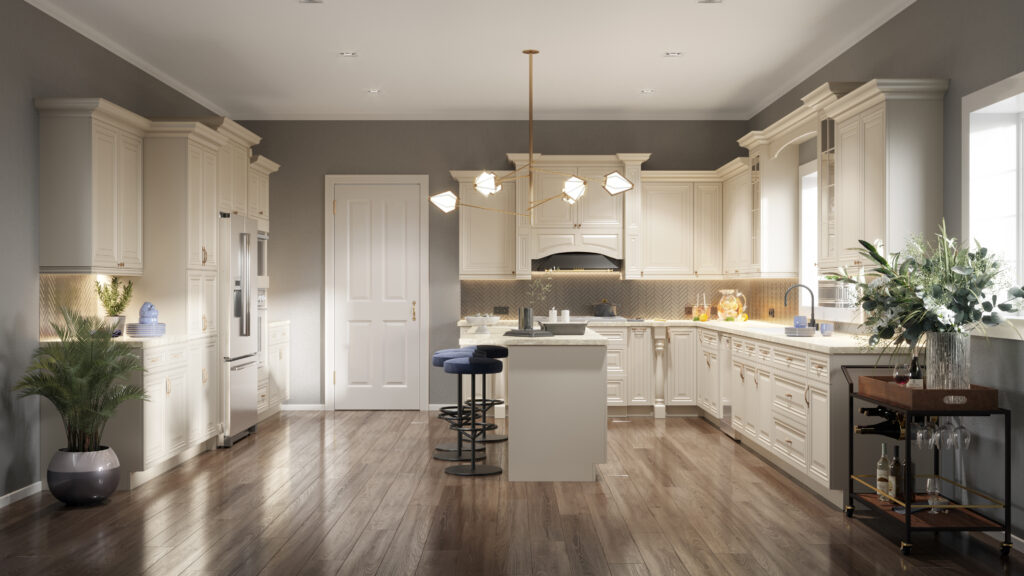 The classic or traditional style kitchen is a popular trend we are seeing in renovations now so we are going to explore what that is and why it may be a good choice for your household.
In the last few years, modern, all-white kitchens were a thing, but their popularity has shifted to classic kitchens that give off more of an inviting feel with a timeless appeal.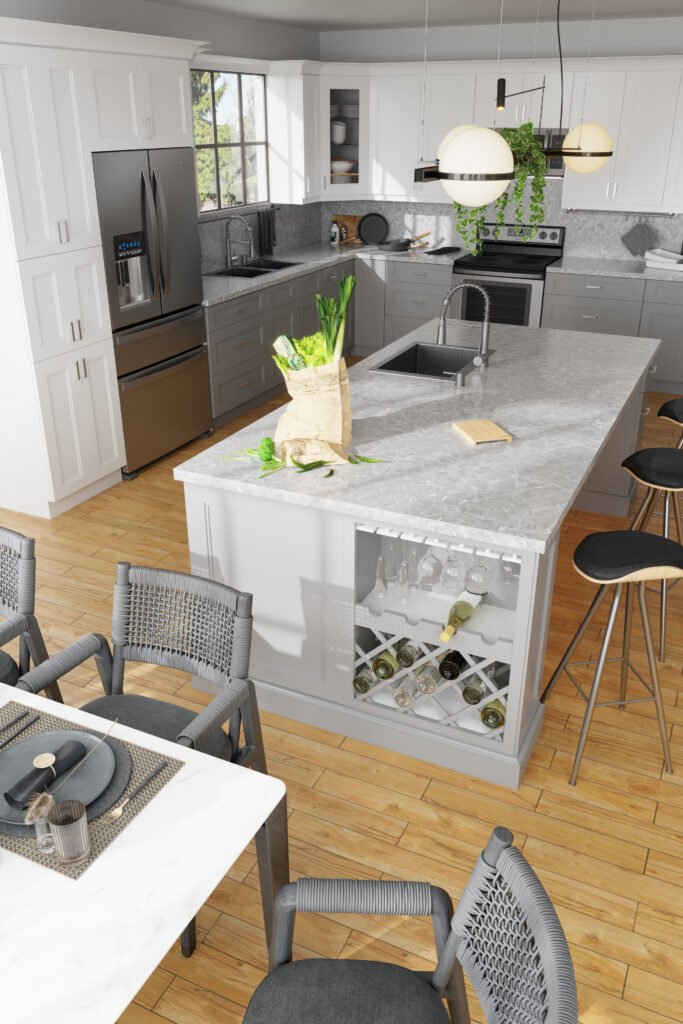 Given that the kitchen tends to be the focal point of one's home, it should be functional but also warm and homey. With classic-style kitchens, it's all about details which can include things like built in wine racks, unique handles, shaker style cabinets and glass-pane cabinet panels.
Integrating the trend: Opting for shaker style cabinets is a great starting point. You can also consider brass handles or knobs for the cabinetry.
With classic kitchens, we typically see rich colours as well like a classic walnut or if you like the brightness of white, choosing a shade that is off white or creamy white.
Classic kitchens also look great with traditional countertop choices. Marble is a great choice on the higher end of the price point spectrum, however we also install a lot of laminate that is made to look like a classic marble, but comes in at a much lower price point. White is the go-to for a classic look.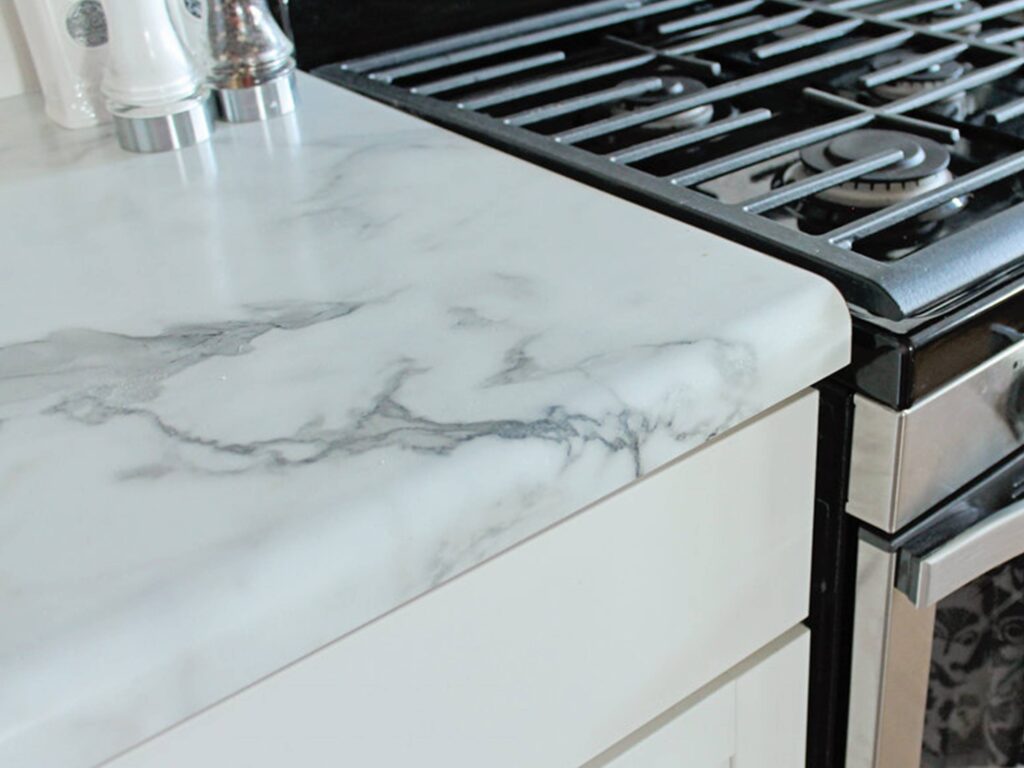 Other Accessories
Tile: When it comes to a backsplash tile in a classic kitchen, a simple white subway tile looks fantastic, but also comes in many shades if you prefer and ultimately is a great budget choice.
Lighting: Warm lighting and pendants give off a great glow to a classic kitchen's ambience.
Paint Colour: Soft neutral tones do best in a classic style. We do a lot of off white, but pale greens and greige (beige and grey combined) are also a very popular choice right now.
Floors: Porcelain tile is a very durable kitchen floor choice and also comes in a great deal of styles that will complement a traditional kitchen and leave you with years of long lasting beauty. Wood floors are less durable, but also a classic and gorgeous choice.
Personal Details: A traditional kitchen can be a great backdrop to showcase your favourite dishes, vases, ornaments, you get the idea.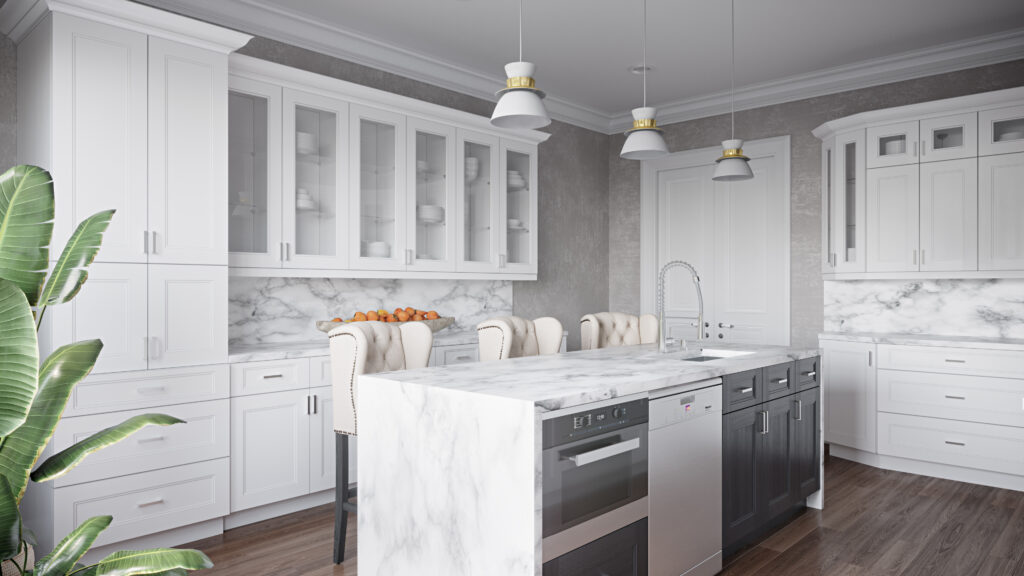 Flexibility
Traditional kitchens are ultimately a great choice because they are chameleons. You can take the same kitchen and completely change its look by mixing in modern bar stools or lighting, or industrial bar stools and lighting, or traditional — you get the idea.
Final Thoughts
The traditional kitchen is a fantastic choice of style for most households and will never go out of style.
At Today's Designer Kitchens we have a kitchen for every taste and budget and would love to assist you in making your kitchen an amazing space in your home.
It all starts with a no obligation quote by filling out a form online.
We look forward to hearing from you and making 2021 the year of your dream kitchen!