Here are 6 of the most common kitchen layouts to consider when planning a renovation.
One Wall Kitchen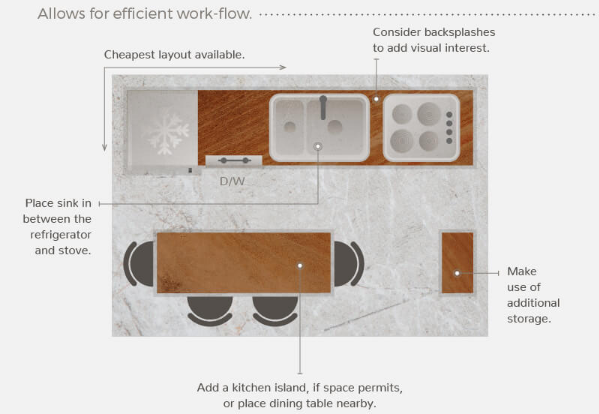 The single-wall kitchen is basic layout that is ideal for small homes and loft apartments because it makes the most of the space.
As the name implies, counters and appliances are all lined up against a single wall, which also makes installation simpler and more cost effective.
The work space area is easy to work in unimpeded. If space allows, an island of any size improves the functionality of this layout, providing more counter space for prep work.
Galley Kitchen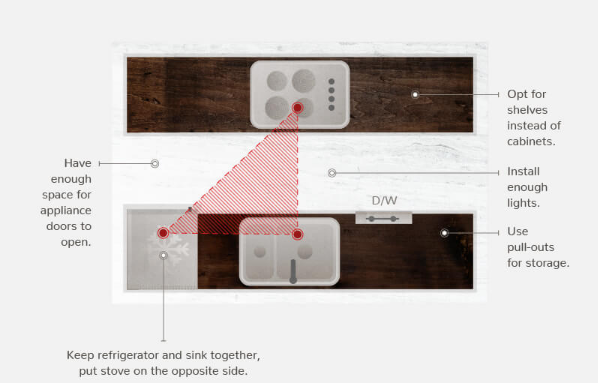 A galley kitchen is two single-wall kitchen layouts running parallel to each other. This is another layout that works well in smaller homes, and given the tight space between work zones, is really optimized for only one cook.
L-Shape Kitchen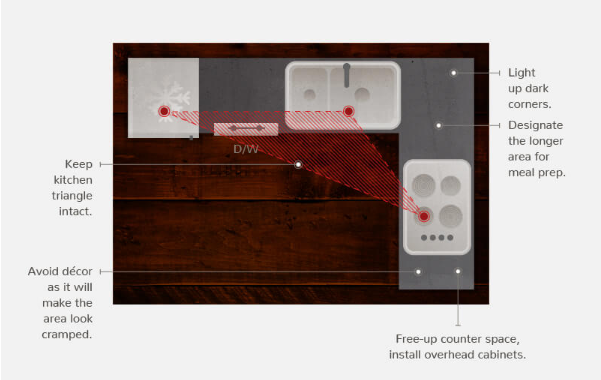 The L-shaped kitchen is one of the most popular layouts because it's functional and can be adapted for almost any sized space. As the name implies, an L-shaped layout features cabinetry and appliances along two adjacent walls, creating an obvious triangle path between work zones.
The length of the two walls need not be equal, but if the room is fairly large, this layout can be optimized further with a central island.
U-Shaped Kitchen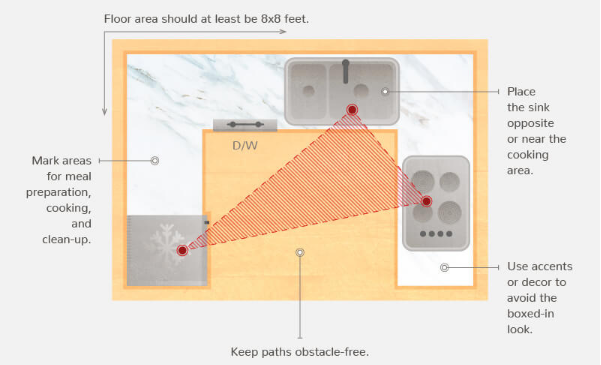 The U-shaped, or horseshoe, kitchen adds a third wall to the L-shaped layout, surrounding the cook with workspace on all three sides, and providing seamless countertop and storage space.
U-shaped layouts are functional in small or large spaces, and the third wall can adapt to be an attached peninsula or floating island.
G-Shape or Peninsula Kitchens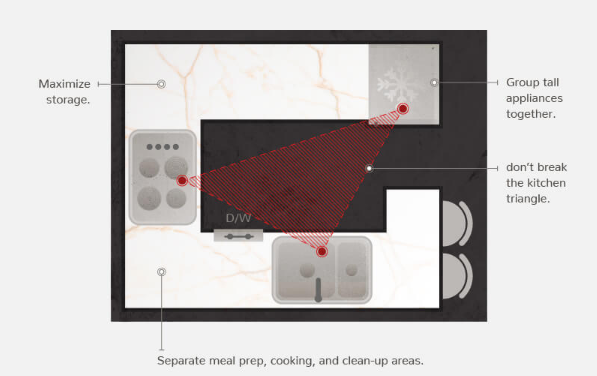 The G-shaped kitchen, essentially occupies three full walls and a partial fourth.
The fourth wall is typically a peninsula, ideal for barstool seating. In a small room, the G-shaped kitchen can feel quite cramped, so it will likely benefit from removing one of the walls to open the kitchen up into an adjoining room—or at the least, removing the upper cabinets from one wall and installing shelving to open up the space.
Island Floor Plan Kitchen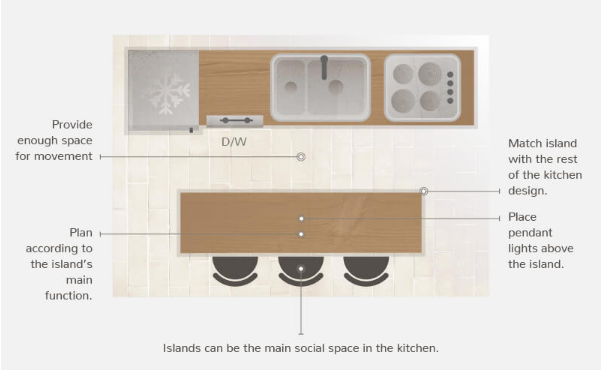 Island kitchens are popular because, they can enhance the layouts mentioned above. An island can be a great add on to an L-shaped kitchen or a galley kitchen, as long as both spaces are wide enough to accommodate them.
In other kitchens, like the large U-shaped kitchens, islands can be a great focal point in the middle of a large kitchen. Some kitchens that are short on space can use them for preparation while others will gain an alternative dining area.