A kitchen renovation is an exciting project that can have many parts involved so we have created this complete guide to assist you.
An incredible kitchen always starts with a great plan, so we will start there, works through the steps and then in conclusion answer some frequently asked questions.
NOTE: Our professional team is always here to help if you need assistance with a free home consultation and quote to get you going.
Now , let's explore the guide:
Planning
The first step in kitchen renovation is deciding what you really want and planning.
Some things you may want to consider are if you need more storage, if you need more space to entertain, does the current work flow design meet your needs?
Asking yourself these questions can help you narrow down your must-haves with a new kitchen.
The kitchen workflow also must be considered no matter what you are hoping for in your remodel. This includes an easy flow between main areas like the stove, fridge, sink unencumbered. For a more detailed workflow breakdown, go here.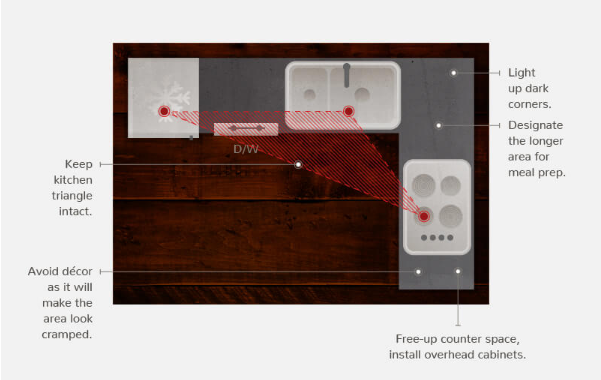 Budget
How do you know what a realistic budget is for your kitchen remodel? A good rule of thumb is to spend 5% – 15% of your home's total value on the renovation. For example, if your house is valued at $200,000, a decent kitchen renovation budget would be 10% of that value, so about $20,000. Note that this can vary widely with the finishes chosen and extent of work to be performed (labour).
The important thing to keep in mind is making sure you're not going over the budget you set for yourself. So, if you want to spend more in one area, make sure to balance it out by cutting back on another renovation project.
DIY Considerations
Think about what you may want to do yourself to save money. Things that may fall in this category are painting or changing hardware on cabinetry.
Professional Considerations
One of the biggest mistakes homeowners make in their renovation projects is ignoring the benefits of hiring a kitchen designer, as well as a contractor.
They can help you stay on track, on budget and on top of the job properly.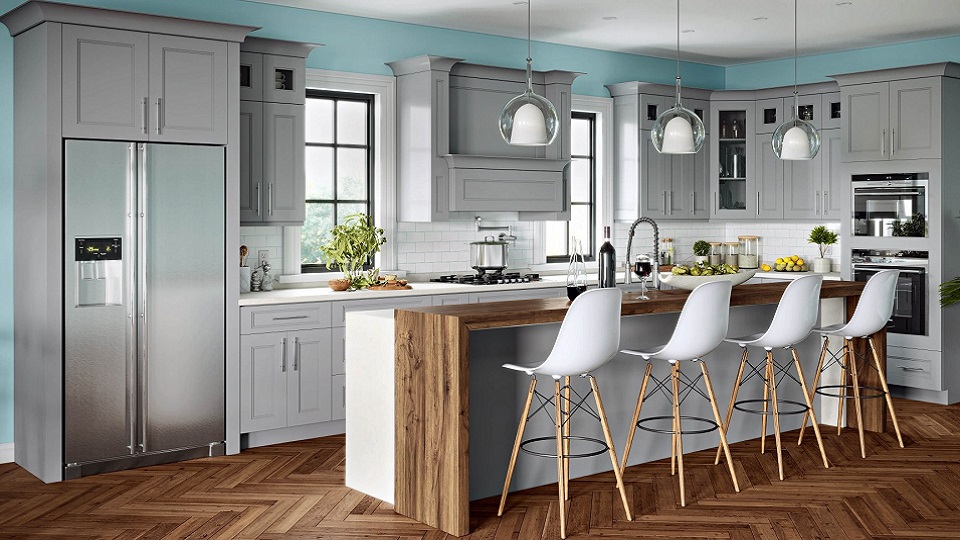 Here's a quick breakdown of how much you can expect to pay for common kitchen renovation professionals:
Contractors: This cost will vary based on your location. Most contractors charge 10 – 20% of total project cost.
Designers: Costs will vary based on location. Estimate 8 – 10% of your remodeling costs.
Money Saving Tip: Find a contractor that also offers design services
Hiring a Contractor
A contractor is the point person for the actual renovation. They source and provide all the materials, plan out the timeline for the project and hire the subcontractors who will be working throughout your renovation. Essentially, they're what makes the project run smoothly and finish on time.
Hiring a contractor is an additional cost, but they'll have the best deals on materials and could end up saving you money in the long run.
Once you've narrowed it down to a few professionals (do some research), it's smart to reach out with questions such as:
Are you licensed?
Are you and your subcontractors insured?
Will you obtain any necessary permits?
Do you offer free quotes?
What would the next steps be?
Do you have different payment options?
Will you handle the cleanup from the project?
Will we have communication throughout the renovation project?

Asking questions like these can help ensure you and your contractor are on the same page and could work well together throughout the renovation.
Hiring a Designer
Design services can be independently hired out or sometimes are part of a company's offerings that does the renovation.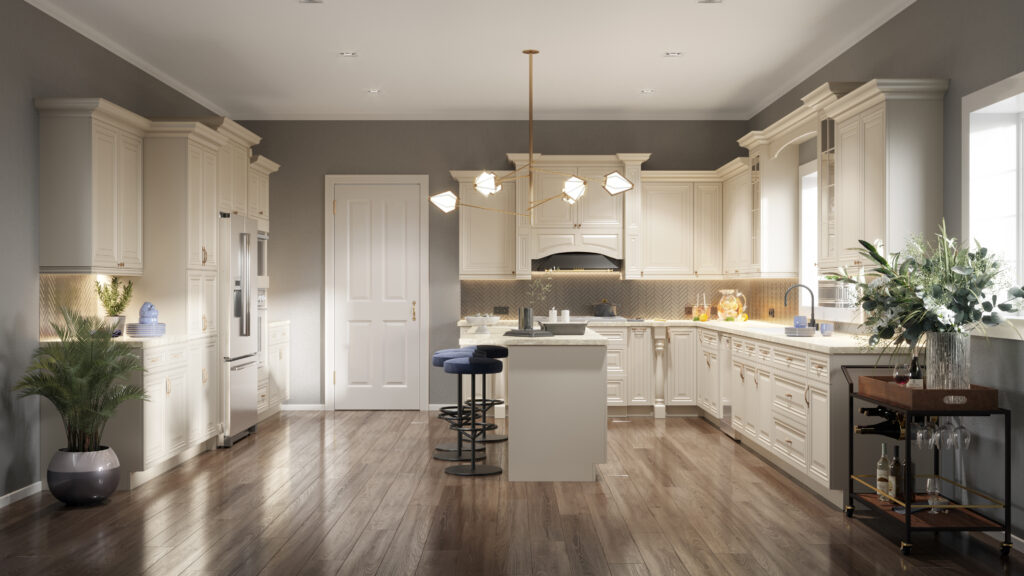 Here are some questions to consider with the designer:
Can I see samples of your past work?
What is the communication flow like?
What are your payment terms?
Will we have final approval before elements are incorporated into the design?
Demolition
After all the research, preparation, budgeting and planning, you're finally ready to start the renovation.
If you've hired a contractor, you won't need to worry about this part, other than clearing out your kitchen cabinets and refrigerator. If you've decided to handle demolition yourself, there are a few things to take care of :
Turning off the water, gas and electrical
Removing appliances and emptying cabinets
Having a dumpster ready for trash
Placing drop cloths on the floors that aren't being renovated

Once the space is prepped, it's time to start the demo by removing items from your kitchen, starting with the cabinetry and drawers and ending with the drywall and flooring.
Update Plumbing
Now that your kitchen is essentially gutted, internal elements of your kitchen, like the plumbing can be worked on.
Some common plumbing issues you might want to solve during your renovation are:
Low water pressure or hard water
Leaks from your faucets, sink or dishwasher
Clogged plumbing
A gas line addition
Updating or replacing shut-off valves
Electrical
Electrical renovation projects are best left to professionals. If you're already working with a contractor, they'll have an electrician lined up for this portion of the project.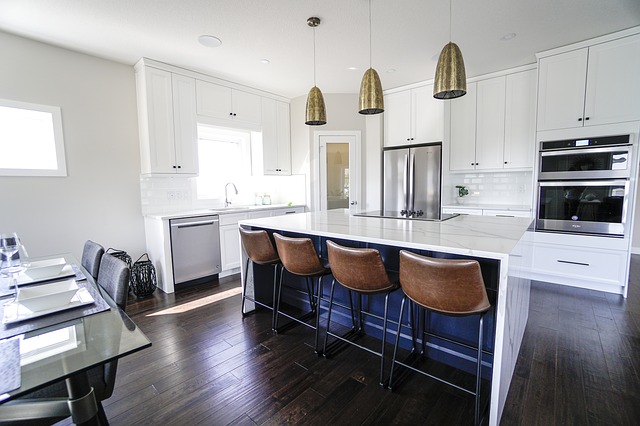 Some common electrical renovations include lighting, dimmer switches, wiring for the dishwasher and garbage disposal and setting up for a new range and oven.
Drywall
Once you've made any necessary upgrades to your plumbing and electrical, it's time to close the walls back up by hanging new drywall.
Drywall encases all the new electrical and plumbing and will give your kitchen a fresh new look as its shape starts to take form.
Paint
Once your drywall is up and dried, it's time to start painting.
The first step is to pick your paint colours. If you've been working with a kitchen designer, they'll help you find the right color for your home. If you're picking colors on your own, a neutral bright palette is recommended because it is timeless and give the kitchen an airy feel.
Flooring
After paint comes the flooring.
Depending on the material you choose for your kitchen flooring, the effort required for installation will vary. For example, laminate or hardwood flooring doesn't require any grout work, but tile flooring will keep you a bit busier laying tile and grouting.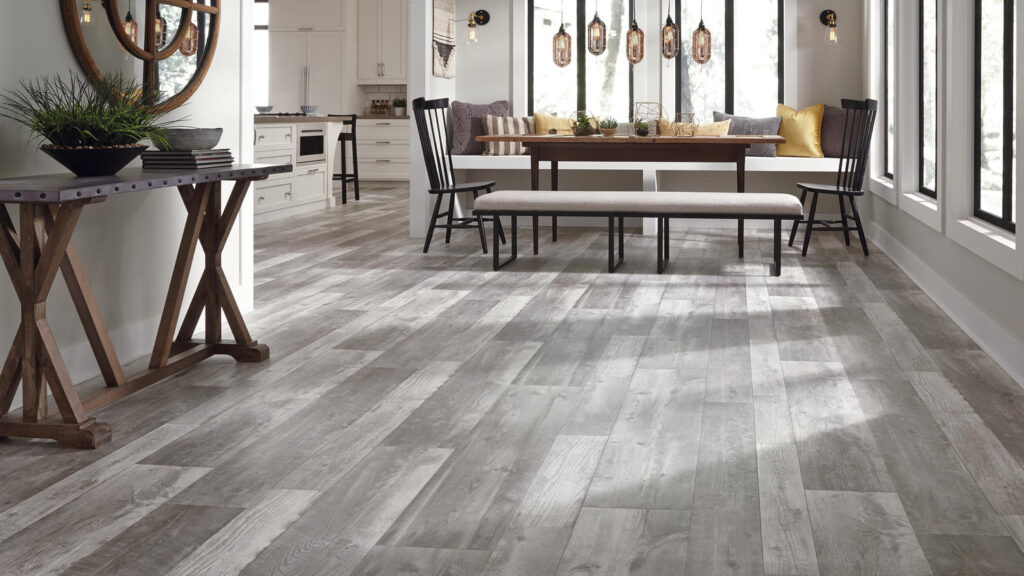 Deciding on the perfect flooring for your household can be a conversation with your contractor/designer.
Luxury vinyl, ceramic and laminate are currently very popular choices.
Install Cabinetry
Having a seasoned professional install cabinetry at this point is always recommended as they are the focal point of the whole kitchen.
There are many styles to choose from including lower cabinets, upper cabinets, glass cabinets, open shelves, etc.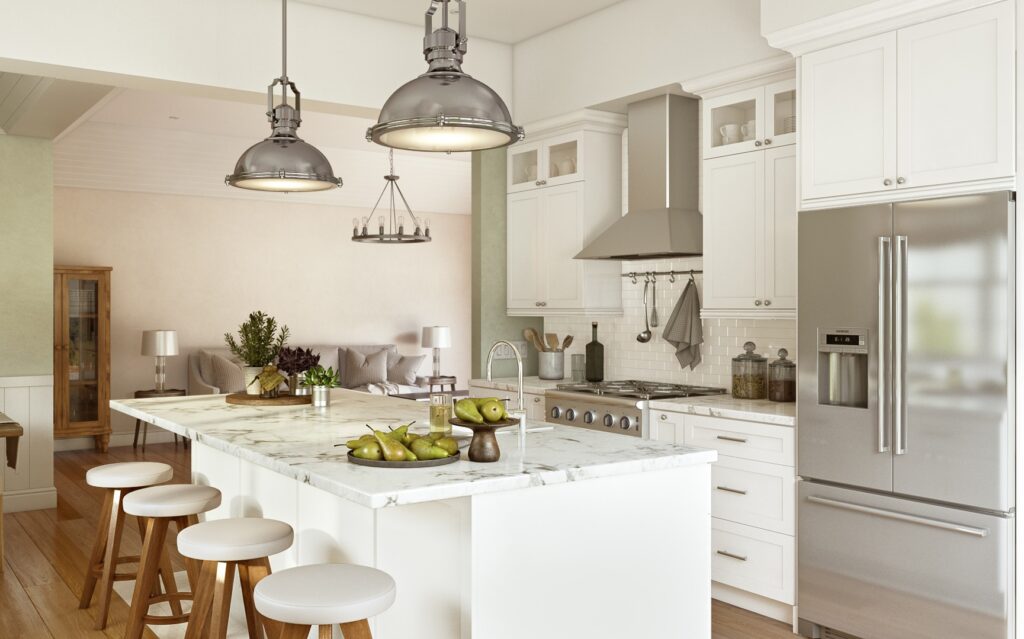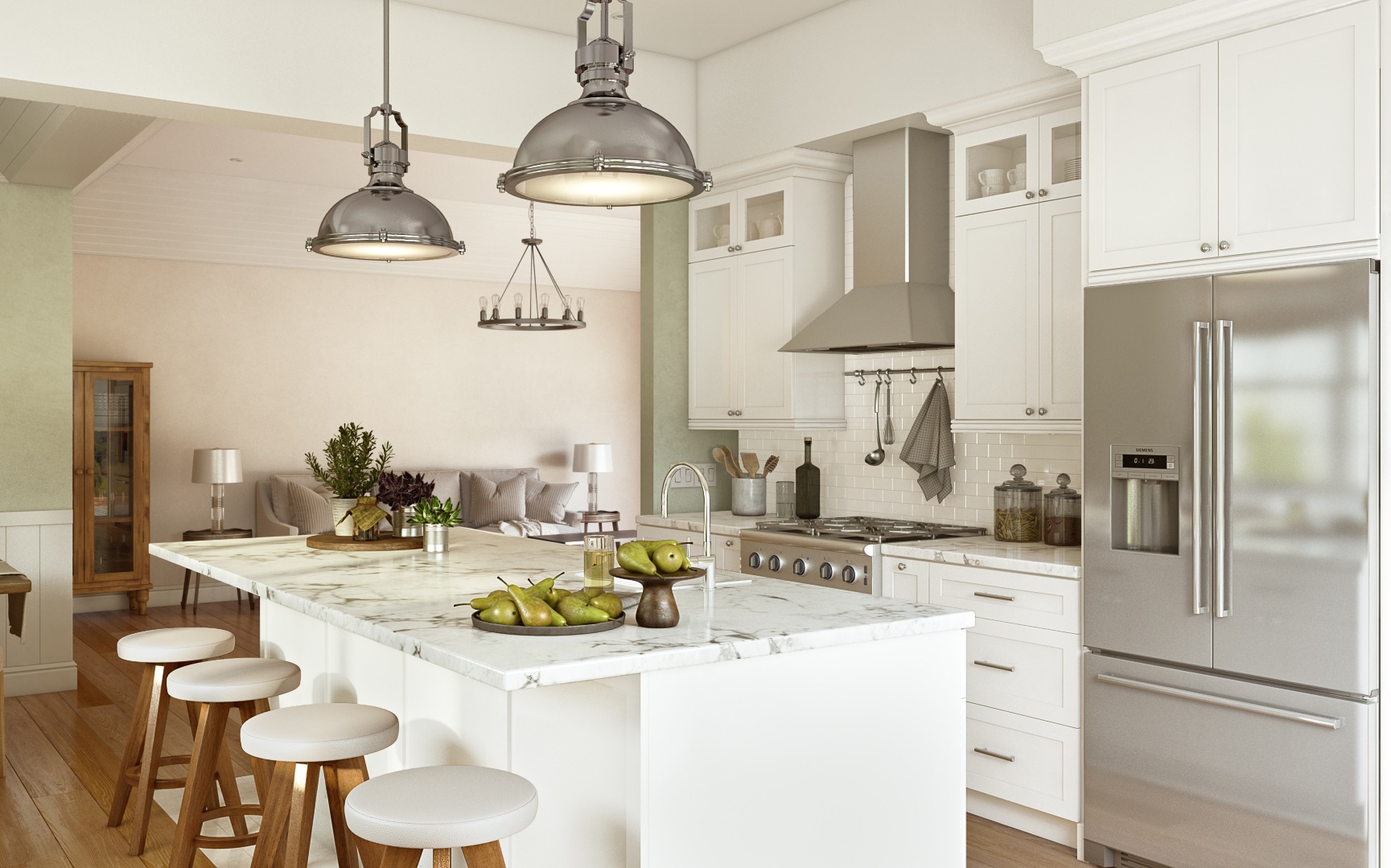 Countertops
Your countertops are installed next.
Generally the most popular counter materials are granite, quartz and laminate. Each type has its pros and cons as well as price point.
A good contractor will be able to assist you with one that works for your needs.
Backsplash
The backsplash comes next and can really add visual appeal to a kitchen with minimal overhead, while also adding a practical wall protection feature.
That being said, there are MANY choices out there, so find one that works for you.
Appliances and finishing touches…
From sinks and taps to the big scale appliances, this is where the final touches come into place on your kitchen.
Appliances can be costly but may bring great features to your home that you are willing to pay for like storage, appearance, energy efficiency, etc.
Sinks and taps likewise can be streamlined to your design preference, kitchen needs and efficiency options.
Wrap Up and an FAQ
A kitchen renovation is something you will enjoy every day so getting it right is important.
Hiring professionals that can streamline the process, keep it in budget and ensure a fantastic outcome is always recommended.
If you are looking for a local renovation team that can design, supply and install your kitchen, we welcome you to contact us at Today's Designer Kitchens in St. Catharines for a free home consultation and estimate.
Kitchen Renovation FAQ
How Much Does the Average Kitchen Cost to Renovate?
A good rule of thumb is to spend 5% – 15% of your home's total value on the kitchen renovation. Note that this can vary widely with the finishes chosen and extent of work to be performed.
The important thing to keep in mind is making sure you're not going over the budget you set for yourself. So, if you want to spend more in one area, make sure to balance it out by cutting back on another renovation project.
Hiring a local contractor can be extremely helpful in navigating costs.
What is the Cheapest Way to Renovate a Kitchen?
Keeping your existing layout is the best way to keep costs down in a renovation. That way electrical, plumbing, etc. do not need to be relocated.
Secondly, the materials you choose will keep the costs down including cabinet choices, counters and flooring.
Keeping existing appliances or buying used are also a great budget saving tips.
Kitchen Contractors
Using a kitchen contractor is highly advised when doing a kitchen renovation as it can be a complex process.
They will coordinate separate trades to keeping your project on schedule and prevent all kinds of logistical headaches. Some contractors will offer design services as well as have supplier connections for efficiency and savings.
Kitchen Cabinets
Kitchen cabinets are the focal point of the kitchen and have a huge impact on the budget. From custom-made to ready-to-assemble cabinetry there are many choices available at different price points.
Cabinet styles usually include base, wall and tall. Popular cabinet materials include: hardwood, plywood, particleboard, MDF, HDF, wood veneer, laminate and thermofoil.
Kitchen Renovation Guide
A complete kitchen renovation usually takes on average 2-3 weeks.
It usually includes in this order: hiring a general contractor/designer, planning, budgeting, purchasing products, demolition, plumbing, electrical, drywall, painting, cabinets, counters, backsplash, installation of appliances and final touches.
Contact Today's Designer Kitchens in St. Catharines, for a FREE no-obligation in-home consultation and quote. We design, supply and install.
Please fill out the form or contact us at 905-641-2284 Monday-Friday during business hours.