A kitchen renovation can cost a lot or a little in Canada, so, here is what you need to know when deciding on an upgrade for this important space.
Depending on the scope of your project, a remodel can be time-consuming and expensive. But if your current kitchen isn't meeting your needs, an overhaul may be worth it.
TYPE OF REMODEL TYPICAL COST
Minor $13,000 to $19,000
Mid-range $20,000 to $39,000
Major $40,000+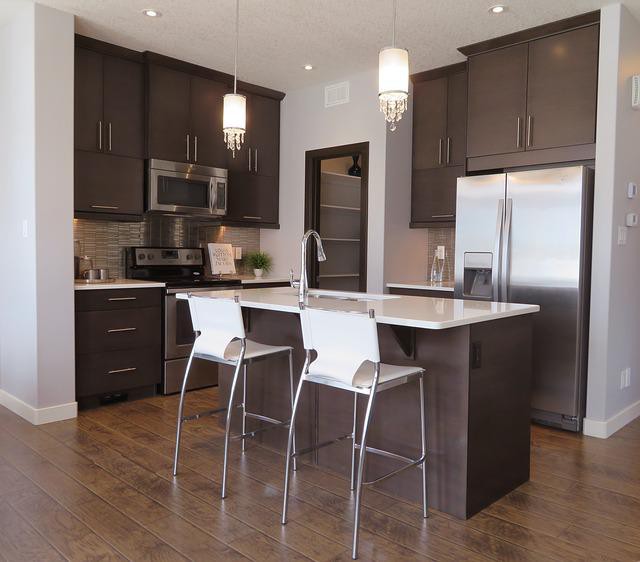 Factors that affect the cost of remodeling a kitchen generally include:
size of kitchen
materials desired in renovation
making changes to the initial layout/changing floorplan
moving electrical, plumbing, etc
level of demolition – eg. full gutting of area vs. keeping some of the original features
Some Kitchen Items Cost More to Replace
Your kitchen has many different parts of which some cost more.
Cabinets – One of the biggest expenses you'll come across during a kitchen remodel is your cabinets, which can cost on average $130-$650 per cabinet. If you're getting custom cabinetry, plan on spending even more.
Countertops – From granite to quartz, you can choose from many kitchen countertops in a variety of colours. Generally, natural products will cost more than anything that's engineered. Countertops typically cost from $23 – $166.00 a square foot according to a Home Depot website.
Backsplash – Adding or replacing a backsplash is an inexpensive renovation that delivers a different look on a tight budget. The materials you choose will affect your cost, but you'll want to budget $1,000 to $5,000 for this project.
Faucets and plumbing – If you're changing your countertops, you may also want a bigger sink or a more functional faucet. Upgraded plumbing fixtures costs about $1,200 on average.
Lighting – Being able to see what you're doing while cooking and washing dishes is important. Replacing your chandelier or installing recessed lights may cost about $1,500 on average, but it could cost more if your project requires complex electrical work.
Flooring – A kitchen floor needs to stand up to a lot of wear and tear, as well as moisture. Flooring costs vary widely based on the materials you choose, from hardwood to tile to laminate. On average, though, replacing a kitchen floor costs $2,100.
Paint – Regardless of the scope of your kitchen remodel, you'll likely need to lay down a new coat of paint. Depending on the brand, colour and sheen you choose, you'll probably spend anywhere from $15 to $100 for a gallon of paint.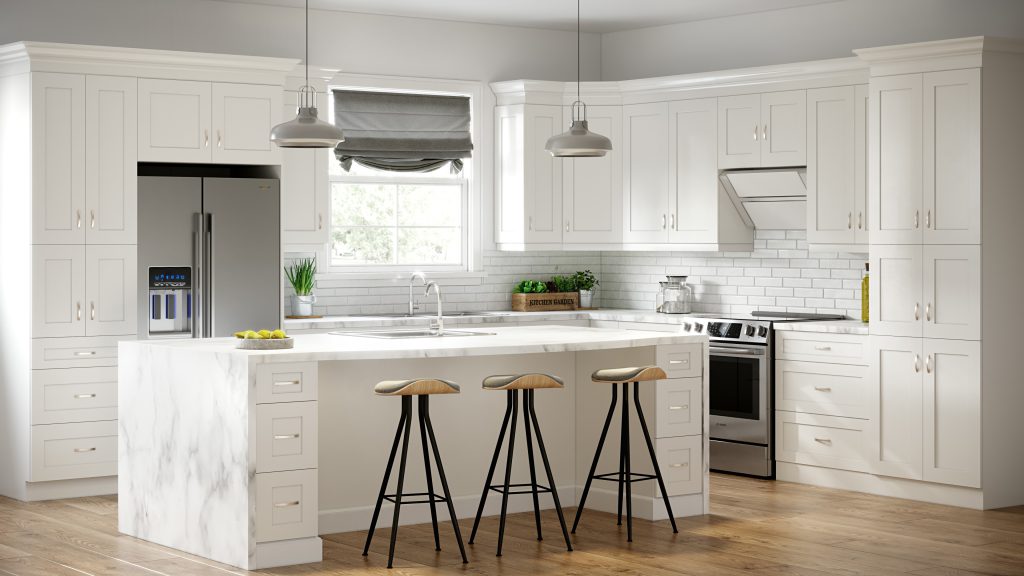 Finishes
Every product in your kitchen has a different level of finish like builder grade finishes that affect costs. If you're looking to keep your costs down, simple or builder grade items are the way to go. Bear in mind, however, these products may wear down quicker and require replacement or repair sooner than higher quality products.
Energy-efficient finishes. Even though energy-efficient appliances may cost you more than basic ones, you may save money in the long run due to potentially lower utility bills and available rebates.
Luxury or custom finishes. You should expect to pay top dollar whenever you opt for luxury or bespoke products, such as custom-built cabinets.
Appliances – Depending on the scope of your kitchen remodel, you may opt to get new appliances. The cost of these items can vary widely, but replacing the big four — the fridge, stove, microwave and dishwasher — could cost thousands of dollars. If you need to stay under budget and your appliances are still in working order, it can make more sense to hold on to them.
Structural changes
Many minor kitchen renovations don't require a building permit, but you may need one and it will add time and cost to your project if your remodel involves:
Adding, moving or removing a wall
Adding or enlarging a window
Adding or enlarging a door
Moving gas, electrical or plumbing lines
The rules about building permits vary based on your province and municipality, so it's important to check with your contractor and city before getting started. The cost of a permit depends on the type of work you're performing and sometimes, the square footage of the project. In most cases, your contractor will help you secure the permit.
Other kitchen remodeling costs to consider
Specific services that you may or may not require will be considerations for the kitchen remodel cost, like:
Designer or architect
Before starting your remodel, you may need to hire a designer or architect. A designer is ideal if your project doesn't require any structural changes and you need an expert to help you create the look you want in your space. Designers may charge a flat fee or, more commonly, a percentage of your project cost. Architects are needed for bigger projects, as they may need to draft drawings to help you secure your building permits. They typically charge by the hour.
Labour
To complete the job, you'll likely need to hire a variety of different professionals, including a: General contractor. A general contractor manages the kitchen remodel project, bringing in other tradespeople as needed. They may charge an hourly rate or a percentage of the project cost.
Plumber. Complex plumbing beyond simple fixture replacements will require a plumber, and your general contractor will typically bring in a trusted professional. Plumbers usually charge by the hour.
Electrician. Similarly, complicated electrical work requires a certified electrician. Your general contractor should be able to recommend an electrician who will typically charge by the hour.
If the project goes according to plan, you may be able to keep labour costs close to what was predicted. However, any avid viewer of remodeling and renovation TV shows can tell you that surprises often pop up mid-remodel, especially in older homes. For example, if your general contractor opens up the walls and finds old or complex wiring that needs to be replaced, you'll need to spend extra time and money on electrical updates. Disposing of materials and old appliances
As part of your kitchen remodel, your contractor may need to rip out old flooring or cabinets and dispose of them safely. The cost of disposal is typically included in your quote, but it's worth confirming. If you're getting new appliances delivered, the retailer may pick up and dispose of your old ones as part of their services.
Final Thoughts
A kitchen makeover can be one of the most rewarding renovations done in the home that brings daily joy and offers a return on investment.
That being said, it is also one of the most time consuming and costly of renovations to take on and hiring a professional team to handle it is usually the wisest choice for those that want to save time, money and stress.
Our team at Today's Designer Kitchens offer a 100% renovation solution where we design, supply and install with a fast turnaround. For homeowners that want to DIY themselves we also offer an option to order cabinets directly from us for maximum savings (even less then big box stores)! (Our recent work below in St. Catharines, ON)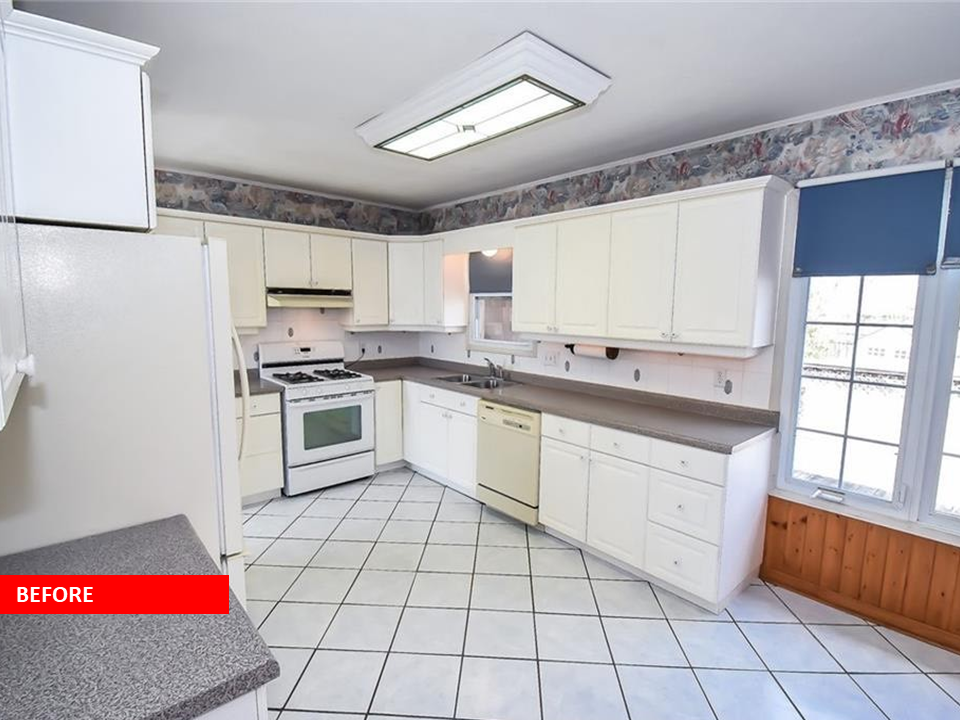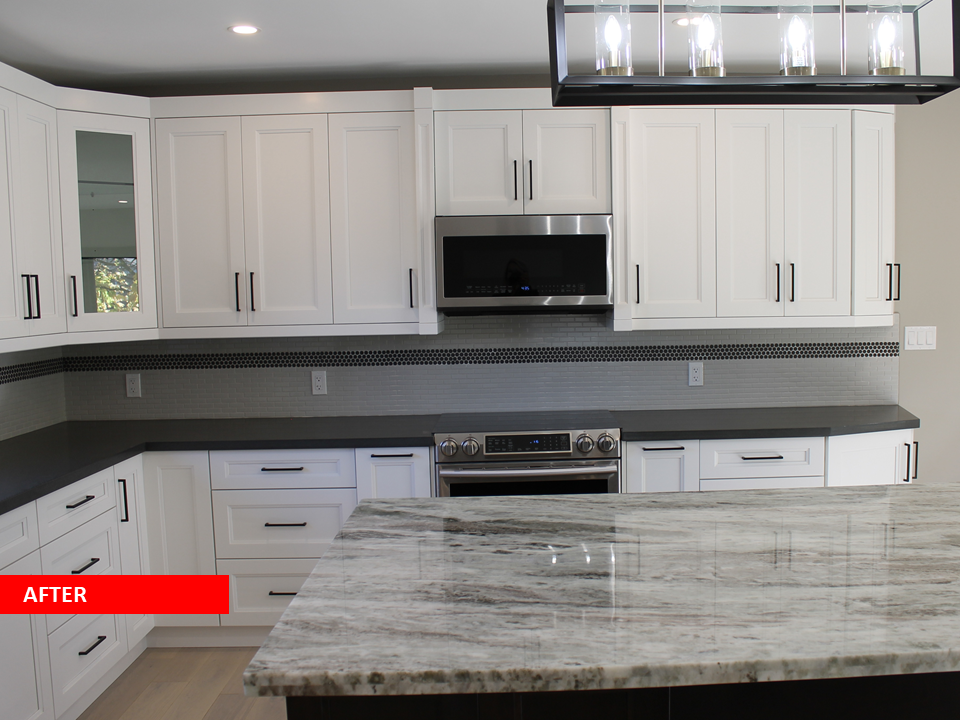 We would love to work with you and discuss your project and welcome you to fill out the form below for a free home consultation in the Niagara Region!
ABOUT US

The team of professionals at Today's Designer Kitchens are dedicated to bringing high quality full service kitchen renovations that are affordable beautiful and functional.
We undertake work in all scopes and budget ranges and provide a full service kitchen solution from floor to ceiling.
Visit Our Showroom M-F 10 am-4 pm.
Address: 239 Carlton St Suite #1, St. Catharines, ON L2R 1S1
Phone: 905-641-2284