A traditional kitchen is a beautiful and sought after kitchen style.
First off it's important to not confuse a traditional kitchen with Old World or country style. Although, like the other two, the traditional kitchen design style is warm and classic, with elements of English and French taste, the colour palettes are different.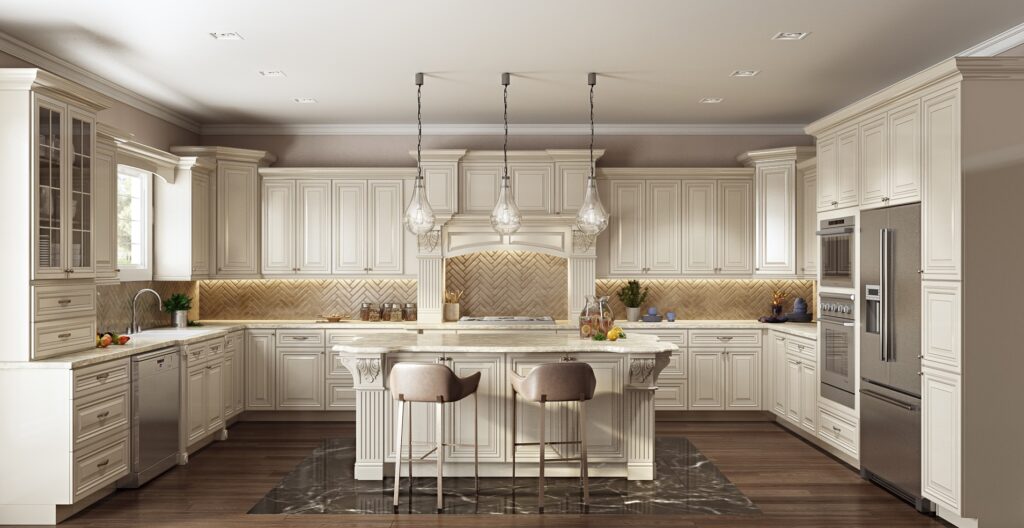 For example, instead of the brighter blues and golds you'd find in an Old World design, the traditional kitchen has soft, muted colors: creams, whites, taupes, light grays or greens.
Part of its charm, like country, is that it brings the outdoors in, so patterns can include things like plants or birds for example and the shades of nature. Natural materials on the cupboards and floors also complement the look of a traditional kitchen as do materials like marble, brick, stone and even wood on the back splash giving the kitchen a "handcrafted " look.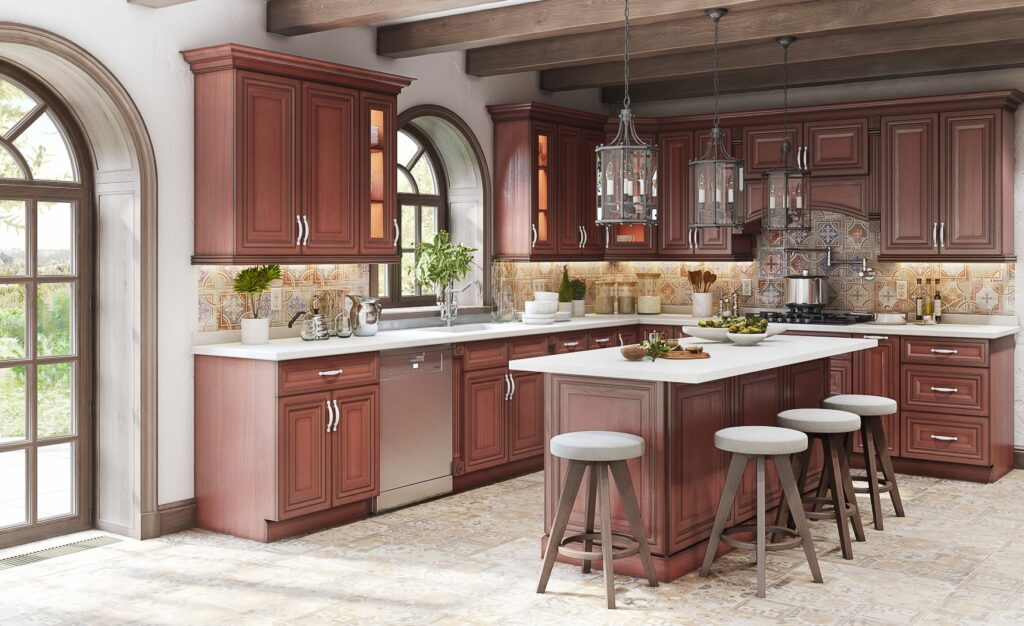 To create the traditional look, here are a few top tips:
Clear the kitchen space of furniture that has no defined period style or ornamentation, and get rid of contemporary or modern pieces that have simple, straight lines. Replace this with a few period pieces that you love and build a design around those by adding molding and cabinet door trim that fit this particular style. Then mix that with compatible pieces from other periods for an eclectic blend.
Consider using a pattern when designing the flooring, such as a basket weave or random pattern with wood. If it's stone, such as limestone, the irregular shapes of the natural stone itself can help create a more natural look and feel to the room.
Look for furnishings with carved legs, columns and turnings.
Use fabric to bring color into the room. Pick nature scenes for curtains and cushions and mix them with stripes, not geometric shapes or designs, which do not fit well with this style.
To create focal points wherever you look in the traditional kitchen, have fun with the knobs on cupboards by choosing different designs, shapes and colors for each door panel. Mix and match wood stains or paints.
Avoid streamlined hardware. Choose faucet fixtures and other hardware, such as light fixtures, that have shape and detail.
If you can afford to leave these out, skip anything made of lacquer, veneer or laminate.
The team at Today's Designer Kitchens are experts in creating the kitchen of your dreams no matter what the style.
If you are thinking of starting a renovation project, why not start the process off with a FREE in-home consultation.  We help our customers through the entire process of their project with design, supply and full installation and work with all scales of projects and budgets.
Call us M-F 905-641-2284 or email us for an appointment at: info@todaysdesignerkitchens.ca.  We look forward to hearing from you.