Dark kitchen cabinets may be a great choice for your kitchen as they can offer coziness, elegance, drama and so much more so let's discuss.
Ambience
A dark cabinet will give a kitchen an immediate contemporary and cozy feel. Inky surfaces, like the ones in this elegant kitchen (main picture our newest Midnight Blue Collection), help enclose the space slightly to create an intimate feel.
Hides Imperfections
A dark surface can be more forgiving than a light one and won't instantly show scuffs and stains. This makes dark cabinetry especially useful in busy households and will minimize cleaning time on a daily basis.
Contrasts Perfectly with White
If you're going for a white countertop or white cabinetry for accents, contrasting it with a dark shade will have the most striking effect and makes the style of this kitchen pop as pictured below.
(Midnight Blue Cabinetry paired with Bermuda White Cabinetry).
Luxury Finishes Blend well with Dark Cabinets
Dark colors look beautiful with metallic finishes, such as brass and copper, as this space by Today's Designer Kitchens below illustrates. The dark blue cabinets complement, rather than clash with the brass and the two surfaces are wonderfully balanced, giving this room a feeling of understated luxury.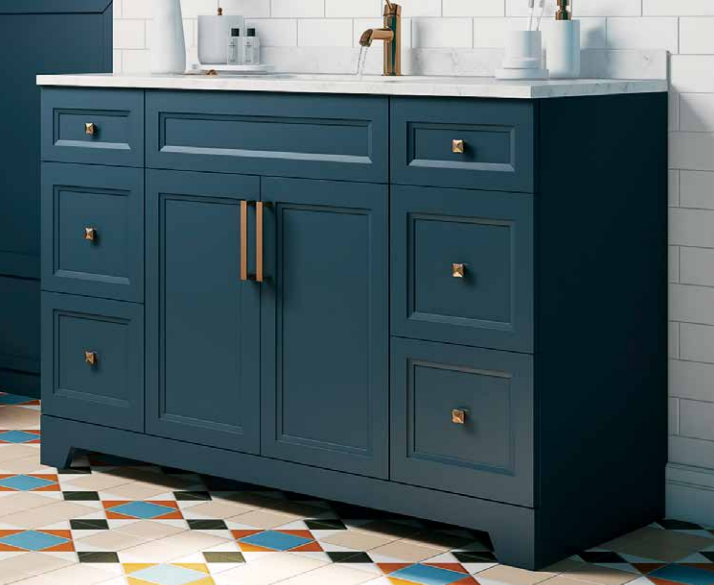 Overall Style Appeal
For a dose of sophistication, you can't beat dark cabinetry. Moody colors give a grown-up feel that can make a space feel seriously chic and unique.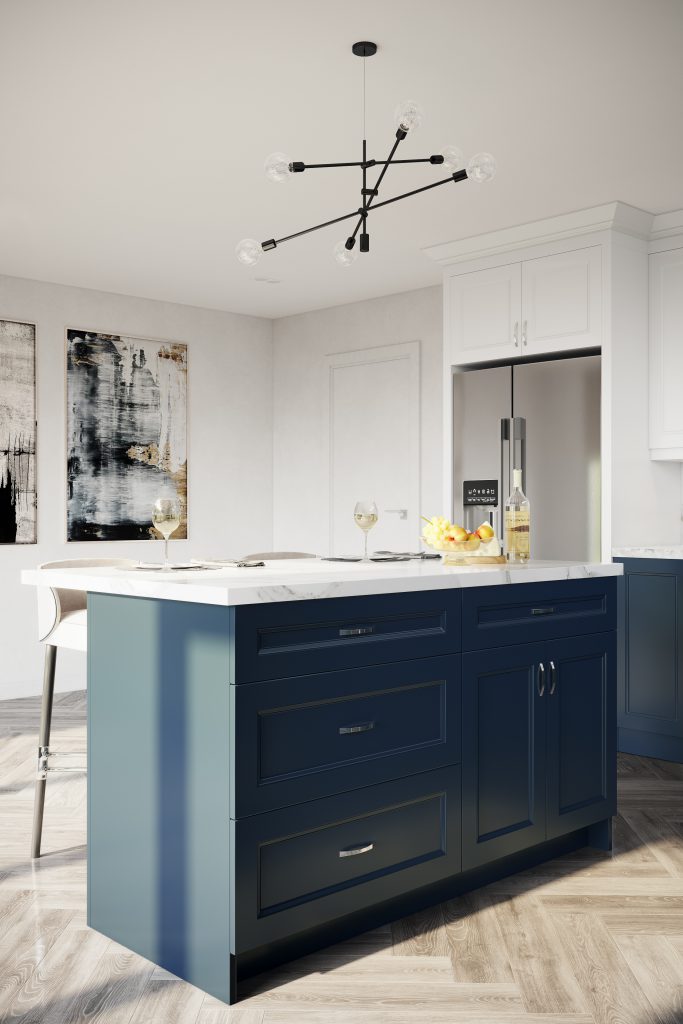 Wrap Up
If you are considering a kitchen renovation and love the warmth that a dark cabinet can add to the space, why not consider this beautiful alternative to the usual go-to white?
If you need assistance in getting your dream kitchen in motion, please call our expert team at Today's Designer Kitchens for a FREE home estimate. One call does it all: 905-641-2284 OR fill out a contact form online below for a quick response.
ABOUT US

Today's Designer Kitchens is a family owned company located in St. Catharines, ON that can expertly and affordably bring your home remodeling dreams to reality. We service the entire Niagara Region.
We specialize in the renovation, home improvements and kitchen and bath industries, providing top quality products and services at competitive prices.
We are committed to ensuring complete customer satisfaction with the service and quality we offer with a streamlined process and fast turnarounds times.
We provide free home estimates and undertake work in all scopes and budget ranges.
Phone
905-641-2284
Address
239 Carlton Street
St. Catharines, ON L2R 1S1
www.todaysdesignerkitchens.ca