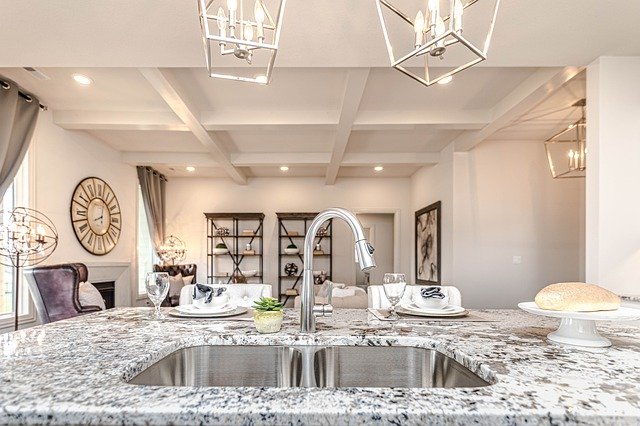 If you are remodeling the kitchen you will need to choose a sink and an undermount style is a popular choice so today we will examine its pros and cons.
Traditional kitchen sinks drop in and rest on top of the counter. However, undermount sinks — a growing trend in the last few years — sit under the countertop's surface, creating a continuous flow from countertop to sink.
Pro: Undermount Sinks Are Clean
Seamless looks are in and look sleek and modern. Undermount sinks attach to the underside of the countertop. Because of this, there's no raised edge or lip on the top of the counter, where food and debris might collect so they are easier to clean and keep clean.
Con: Undermount Sinks Can Fail if Installed Incorrectly
Professional installation is vital in an undermount sink. That means clips or straps need to be part of the process not just silicone.
The proper way to install an undermount sink involves screwing it into the countertop to properly secure the sink. Failure to mount the kitchen sink properly could result in it dropping. An effect that can happen gradually over time.
Pro: Undermount Sinks are Desirable for Resale
The undermount style has surged in popularity and are often seen as a premium to homebuyers . If you are thinking about selling your home in the near future, an undermount sink is a good investment for resale.
Con: Undermount Price
Undermount sinks can be more expensive than drop ins. That being said there are a wide variety of price options that are available.
Pro: Undermount Faucet Placement
Faucets can be conveniently placed in any location with undermount sinks. Many don't come with pre-drilled holes like overmount sinks usually do, which allows you to place the faucet in the most convenient location.
Wrap Up
Undermount sinks are all the rage right now, but they also are very practical for a kitchen no matter what your budget.
If you are in need of a kitchen makeover and need some expert advice our team at Today's Designer Kitchens would be pleased to give you a free in-home estimate.
We specialize in kitchen solutions from floor to ceiling for every homeowner and every budget with a fast turnaround.