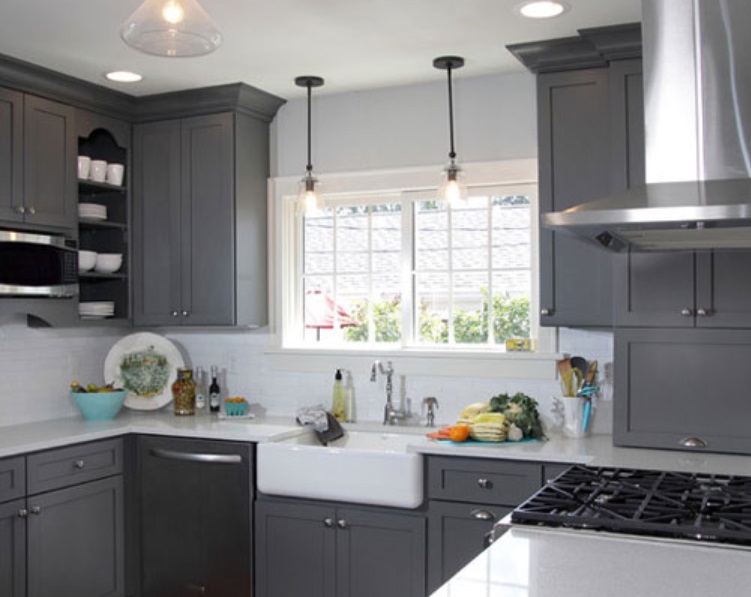 A classic farmhouse sink is a very popular choice with our customers right now (as seen in one of our Step Charcoal Grey Kitchens here)
Farmhouse sinks are beautiful, but before you make the choice on this pricey kitchen feature, there are a few factors you should consider that a lot of folks don't know so let's explore.
1
Dishes Will Break More Easily
The deep basin of a farmhouse sink—the same reason this style sink is ideal for washing dishes—makes it more likely you'll accidentally break glasses and dishes knocked over into the porcelain bowl.
2
It Will Get Stained (And Potentially Chip) 
If you opt for a classic white porcelain farmhouse sink, it's very likely to get stained, and it will require regular cleaning to keep it sparkling. Scrubbing the sink with baking soda will help remove sauce stains, yet this mild abrasive won't scratch the surface. If you don't want to commit to cleaning your sink often, you may want to consider getting a farmhouse-style sink in another material besides porcelain, such as stainless steel.
There Are Other Options Besides Porcelain
When you think of a farmhouse sink, it's likely a pristine white porcelain one that comes to mind. But there are many other options available, so be sure to pick one that best matches your kitchen design and lifestyle.
For example, stainless steel is durable and won't chip like porcelain. Copper is another popular option for its beautiful colour. If you want the look of porcelain but at a slightly lower cost and with less maintenance, fireclay could be your best bet. A polished marble farmhouse sink adds a luxurious look to a kitchen, but it comes at a higher price and will need to be resealed every few years.
A Fire clay Sink below in a Off White Cabinet is stunning and functional.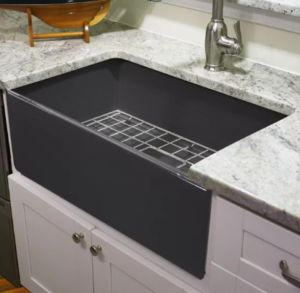 5
Consider Your Kitchen Habits Before Choosing Single vs. Double Basin
As with many types of sinks, farmhouse sinks come in both single- and double-bowl designs. This choice should be considered as carefully as the sink material. Think about the way you cook and dish wash. Do you do a lot of food prep in your sink? A large single-bowl sink could be the right choice. Do you like to tackle some of the dishes while dinner is cooking? A double-basin sink that lets you wash dishes on one side without disturbing the rinsed salad greens on the other side could be for you.
If you're planning to upgrade to a farmhouse sink in your current kitchen, you may have to change your counter tops. Because farmhouse sinks are wider and deeper than standard sinks, your counter top (and potentially the cabinets below) will need to be adjusted to make room. And if you're installing a heavy porcelain or stone option, you'll need to check that the cabinets below can handle the weight, or else they may need to be reinforced.
Still on the fence with your sink renovation?
At Today's Designer Kitchens we assist folks all the time to make sure they get the right products that fit their lifestyle.
Now is a great time to consider a kitchen renovation if you have been thinking about it.
We guarantee the best price and service in the Niagara Region for design, supply and full installation of quality kitchens.
We would be pleased to give you an estimate to get things going.
Please Email us HERE