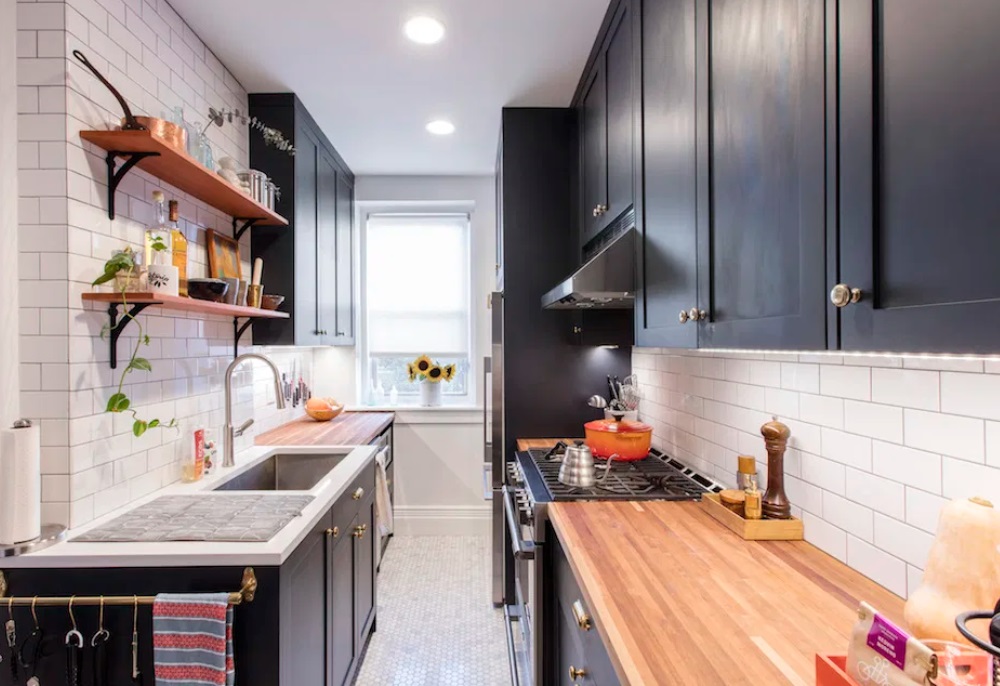 Step Charcoal Grey Galley Kitchen
If you have small kitchen and want to maximize the space, then a galley design might be right for you.
Below, a diagram of the basic galley kitchen layout.
What Is a Galley Kitchen? A galley kitchen consists of a single wide lane with appliances and cabinets on either side. It helps maximize efficiency and control the flow of traffic through the kitchen. It follows the design idea of the work triangle where the three most used appliances (stove, fridge and sink) form a triangle in the kitchen. Often, the stove is on one side and the sink and refrigerator on the other.
Timeless Design If you have a galley kitchen, then you'll probably have a mix of open and traditional shelving. Vertical shelving is most often used because if makes use of the space better than horizontal shelving. The open shelves are used for easily grabbed items. Sometimes glass can be used to open up the space visually as well.
Organization Is Key When you have a galley kitchen, organization is an important part of keeping the kitchen functional and efficient. The vertical cabinets often have baskets that hold necessary utensils and cooking tools. Since space is at a premium, get rid of any appliances that you don't use much.
The goal of a galley kitchen is to have as much functionality as possible while maximizing the space available. It's important that counter tops and cabinets don't have clutter, or you're defeating the whole purpose of having this style of kitchen.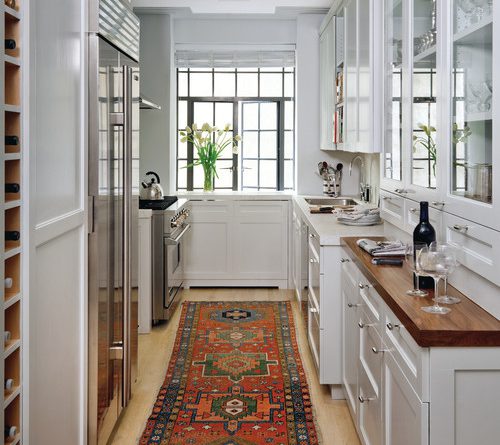 Step Shaker White Galley Kitchen
Top Reasons To Consider a Galley Style Kitchen:
– appliances will be within close range of each other, ensuring it is easy to reach everything without needing to travel much.
-due to the smaller footprint of a galley kitchen, the kitchen triangle will often fit naturally into the design – meaning your fridge, sink and oven are conveniently close to each other
-galley kitchens tend to be cheaper, because they usually require fewer cabinets and do not require any corner cabinets or specialized accessories – like wire work.
-fewer areas grouped closely together also means that they are easy and quick to clean.
-large  homes as well as smaller ones can look great with a galley style kitchen
If you are considering a kitchen makeover and need assistance with layout ideas, call the team at Today's Designer Kitchens in St. Catharines and we would be happy to assist.
Call: 905-684-5484 M-F 10-5 pm.