The days are getting shorter, and darker faster. Is there any way to change things in the kitchen to compensate for this loss for the next 5 or 6 months?
WINDOW TREATMENTS
Remove them entirely to allow more natural light into the kitchen. Even a few inches of a valance extending into the window will have a noticeable difference.
The removal of the fabric will add a clean, spacious look and will reflect more light into the kitchen immediately.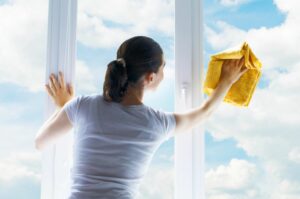 DECLUTTER
The change of seasons is always a good time to reassess what is clutter and what is needed, especially on the counter tops.
By de-cluttering you are opening up your space and visually making it lighter and brighter.
LIGHT COLOURS
This time of year, why not try to incorporate light colored accessories, dinnerware,  placements, even rugs  into the kitchen in the "dark months".
Finding the light by using light colors and whites will collectively add more light into the kitchen and will lift your spirits. Think spring and summer style - really!
LIGHTING
While it's not so easy to add light fixtures into the kitchen for seasonal reasons, make sure that adequate natural and artificial lighting is seriously considered in the kitchen planning stage.
CLEAN
Making your kitchen sparkling clean and fresh smelling (think citrusy scents like lemon) is an incredible way to enhance the feeling of a light and airy kitchen.
Overall, there are many things that can be done in your kitchen for brightness during the darker months so we hope this has been helpful in giving you some ideas.
If a bright NEW kitchen is on your mind, now is a fantastic time to renovate and the team at Today's Designer Kitchens would be pleased to assist.
Call 905-641-2284 (M-F 10-5 pm) or email: info@todaysdesignerkitchens.ca
About Today's Designer Kitchens
Located at 239 Carleton Street in St. Catharines, ON., we are a full service design, supply and install kitchen renovation company that specializes in budget conscious projects whether small or large in the Niagara Region.