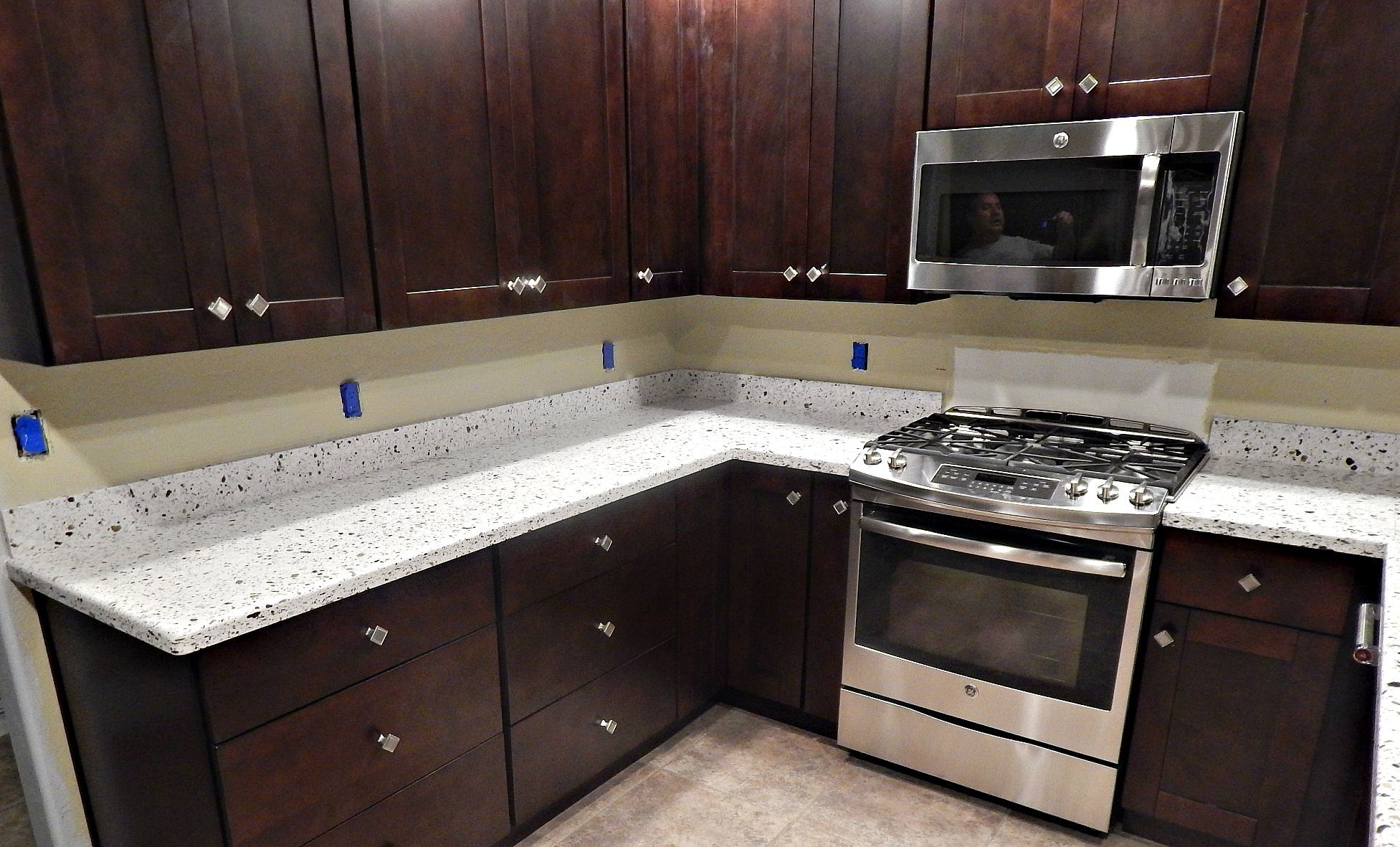 The 4-inch backsplash had been a standard in general construction installations for many years (as shown in the picture above) and many people love it.
Just to be clear the 4 inches refers to the length of the extension of the countertop itself that runs flush with the wall.
Here are a few things to consider about this style for your project.
Budget Friendly
A 4-inch backsplash is cost effective. It is made of less material than a half- or full-height backsplash and as a result, costs less to fabricate and install.
Simple
It has a clean straight line design that complements many different types of kitchen themes and design tastes.
Blends Well
When this backsplash is made from material that matches the countertop itself, it creates a pleasing and uniform look.
Keeps Wall Clean
The 4-inch backsplash does provide protection for the walls, from splatters and other kitchen activities.
Cozy
It can also make a large kitchen feel cozier. By covering part of the wall, its height alters perception and makes walls seem shorter and a ceiling seem lower.
Are Their Drawbacks to this Counter Style?
As the saying goes "beauty is in the eye of the beholder" and with this said, some people do not like this counter style as they consider it a dated look for a counter (other's love it though)!
The other main drawback of this counter is that it is limited in the amount of wall protection it gives as it is lower than some other styles.
As with all design choices in a kitchen, it is really up to you as to what you like and what works with your daily kitchen regime.
There are many styles and materials available when it comes to choosing a good counter.
If you need assistance with this, or perhaps you need a full scale renovation of your kitchen space, the team at Today's Designer Kitchens in St. Catharines, ON are pros at designing, supplying and installing beautiful kitchens on budget and on time.
Call or email us for an in-home estimate today.
Call: 905-641-2284.