U-shaped Kitchen:
The U-Shape Kitchen is a popular layout that has stood the test of time.
Space and storage can be maximized in this layout, it is ideal for the 2 cook household with its counter space and it even can be a place to eat with an island addition.
Essentially, the U-shaped kitchen can offer the best of all worlds. You will have all the space you need to make sure that you can use the kitchen to its full potential – perhaps separating the cooking and preparation areas and giving yourself ample storage space, but the space in the middle is yours to play with.
This is ideal for the home owner that likes to not only spent lots of time in the kitchen making meals and baking but also sees it as a communal family room where everyone can get together.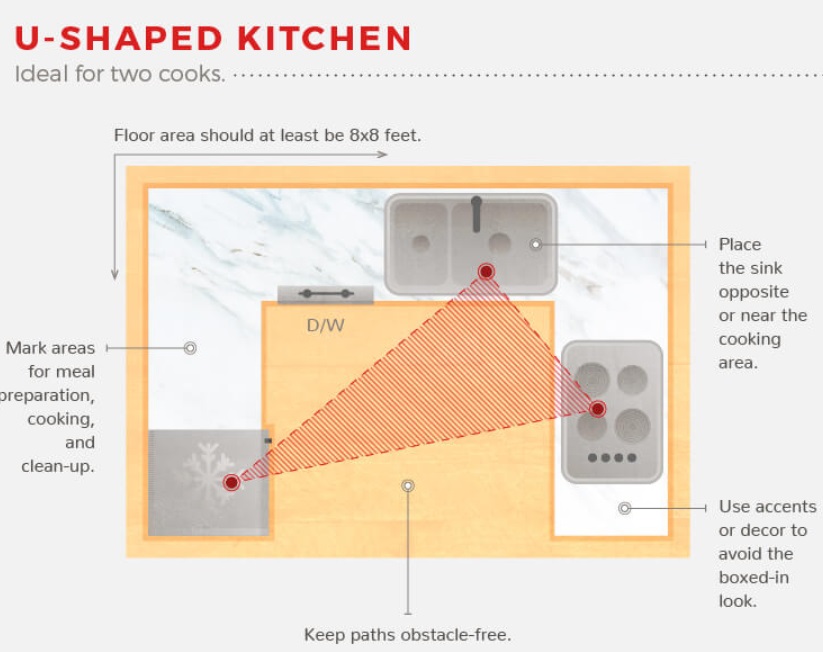 U-shaped kitchen advantages
-Counter space
-Easy for two or more cooks to operate at once.
-U-shaped design helps to keep traffic out…
-Incorporating a kitchen island keeps cooking social
-can work in various space restrictions
Now sure about the kitchen layout that works for your home?  The team at Today's Designer Kitchens are highly experienced in assisting our customers design a layout that works for their unique needs.
There are many other layouts that can be considered as well.
For all your kitchen renovation needs in the Niagara Region, we are a full service design, supply and installation company that work in all project scopes and budgets and would be pleased to assist in your remodel.
Please contact us M-F 10-5 pm: 905-641-2284 or email us directly for an in home consultation: info@todaysdesignerkitchens.ca
About Today's Designer Kitchens
We are a full service design, supply and installation company with a dedication to keep projects on time and on budget.
Serving the Niagara Region, our showroom is at 239 Carleton Street in St. Catharines.