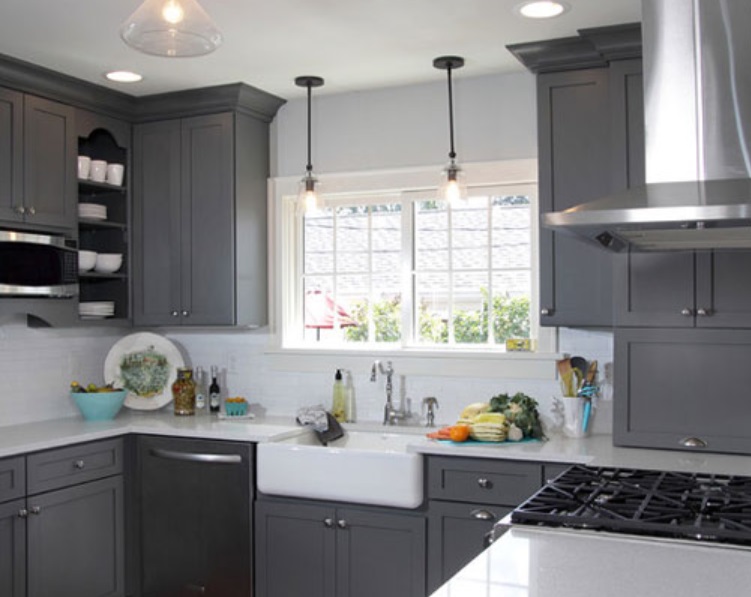 We will examine the 3 most important types of lighting every kitchen needs because proper lighting is crucial for not only function but beauty!
Ambient (pot lights in picture above): This will be your main source of light—whether in addition to natural light, or to fill in for lack of it. You want to cast as much of it as evenly as possible from your ceiling. You can do so with a combination of different lights that suit your taste.
Task (under cabinet lights in picture above) : While ambient lighting is used to illuminate the entire kitchen, it often leaves shadows in areas that require more focus. With the help of task lighting, work surfaces and cabinetry are properly illuminated so you can safely prepare meals, read recipes, and easily spot ingredients on a shelf. Common kitchen task lighting options include strip lights and puck lights.
Accent (hanging pendant lights in picture above) : Consider these flourishes the cherry on top of your well-designed kitchen: toe kick lights, cabinet lights and any other light that might accentuate your favorite elements. They also might cross over into ambient and task lighting as well.
Get Expert Advice on Your Kitchen Lighting and Design
If you are considering a remodel on your kitchen, the good news is that fantastic lighting is one of the most inexpensive yet rewarding aspects of the project.
Need assistance planning your new kitchen? Our expert renovators cans assist you in the design, supply and installation of everything. From floor to ceiling we do it all with just one call. It all starts with a free in home estimate.
Please fill out the form below or call us at 906-641-2284 to find out more about our affordable, beautiful solutions and get your project started!
GET A FREE QUOTE NOW