Have you ever thought about removing a wall in your kitchen so that you could maximize its functionality and design?
You are not alone and that is why we are going to discuss one of the most popular aspects of a renovation that comes our way in kitchen projects and that is the removal of walls.
It may sound like a big deal, but it really is not when you consider all the benefits that a wall removal could bring to your every day life.
During a kitchen remodel, one of the most important areas you will think about is the floor plan. It influences everything from construction costs to how you spend time with your family. To build a larger kitchen design, where you have room to move and the family has room to move about the space freely, consider removing a wall between the kitchen and an adjoining living room or dining room.
This creates an open floor plan, which allows you keep everyone together, while giving yourself some extra space. Open floor plans produce a modern vibe, where each room flows into the next.
An open floor plan will:
MAKE YOUR SPACE LOOK AND FEEL LARGER.
While open floor plans work in any size home, it is particularly good for smaller houses, as removing a wall or two opens up the space. No matter the size of your home, removing a wall will give your space a more open, airy feel.
ALLOW YOU TO KEEP AN EYE ON THE KIDS.
In your new kitchen design, you can cook dinner and perform other household chores, while the kids are in the same room.
INCREASE NATURAL SUNLIGHT.
With fewer walls, the sun can now permeate through the house.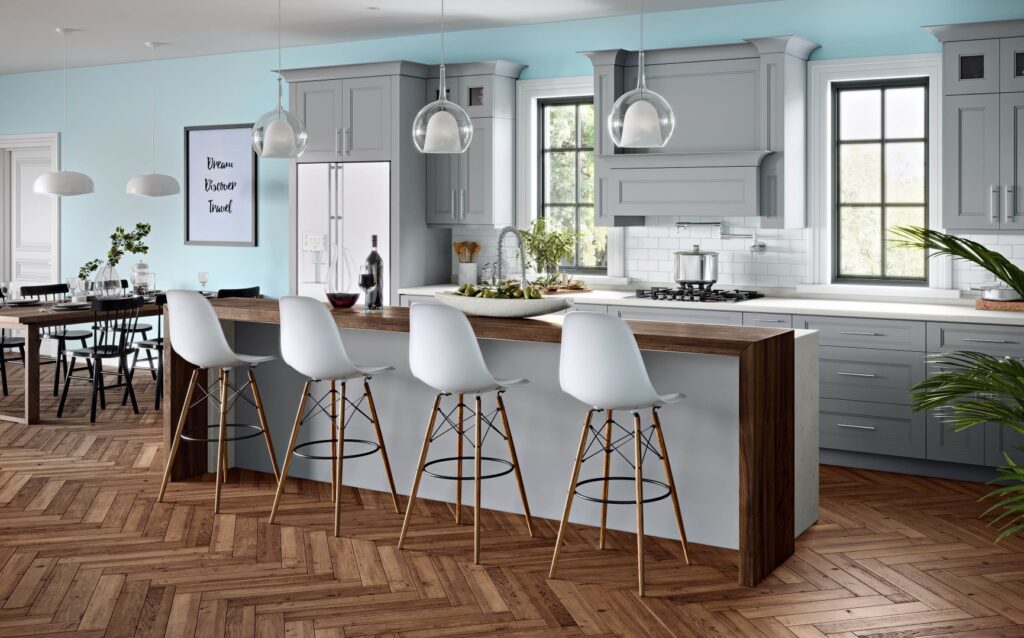 MAKE YOU A BETTER ENTERTAINER!
Now, you can easily converse with your guests without tripping over them and without feeling like you're missing interesting conversations.
INCREASE THE RESALE VALUE OF YOUR HOME.
Adding an open floor plan as part of a kitchen remodel is increasingly popular and can boost your home's value when it's time for you to sell.
Before you get going on your kitchen renovation, here are a few things you need to know before you remove a wall:
CONFIRM THE WALL ISN'T LOAD BEARING.
Walls always separate spaces, but sometimes they bear weight from above and are vital your house's structural integrity. Load bearing walls can be removed, but a beam must be installed to support the load, which will add to your kitchen remodeling costs and construction time.
CERTAIN WALLS MAY BE THERE FOR A REASON.
Walls were created for other reasons than to bear loads. Before you take down all the walls, think about how sound and smell will travel in an open floor plan, and consider your energy and privacy needs.
SOMETIMES, WALLS HIDE THINGS.
All of your utilities run through the wall – electrical, plumbing, cable, and telephone. If the wall you're looking to remove contains utilities, they will have to be contained somewhere else.
While constructing open floor plans comes with some obstacles, it is worth it to the overall value of your home and comfort level.
If you are planning a kitchen renovation of any kind, our expert team would be happy to provide you a free consultation. We design, supply and install for less with a quick turnaround.
Please call us: 905-641-2284 OR fill out the contact form for a quick response.