Here is how to design your dream kitchen if you are planning a renovation. Our tips come from years of kitchen installation experience so we hope you find them useful.
Remember that making a plan before you begin is the key to success. So, with that in mind, here are very important considerations before you begin your kitchen project.
Kitchen Function

One of the most important aspect to think about when planning a new kitchen design (or any space for that matter) is to determine what function you wish it to serve.
Kitchens are a lot more than just cooking spaces these days. Kitchens are the heart of the home, a place where we gather and spend most of our time. Just think of all the things you do in your kitchen everyday like: work, watch tv, read the mail, chat with the family, do homework, entertain friends and so much more.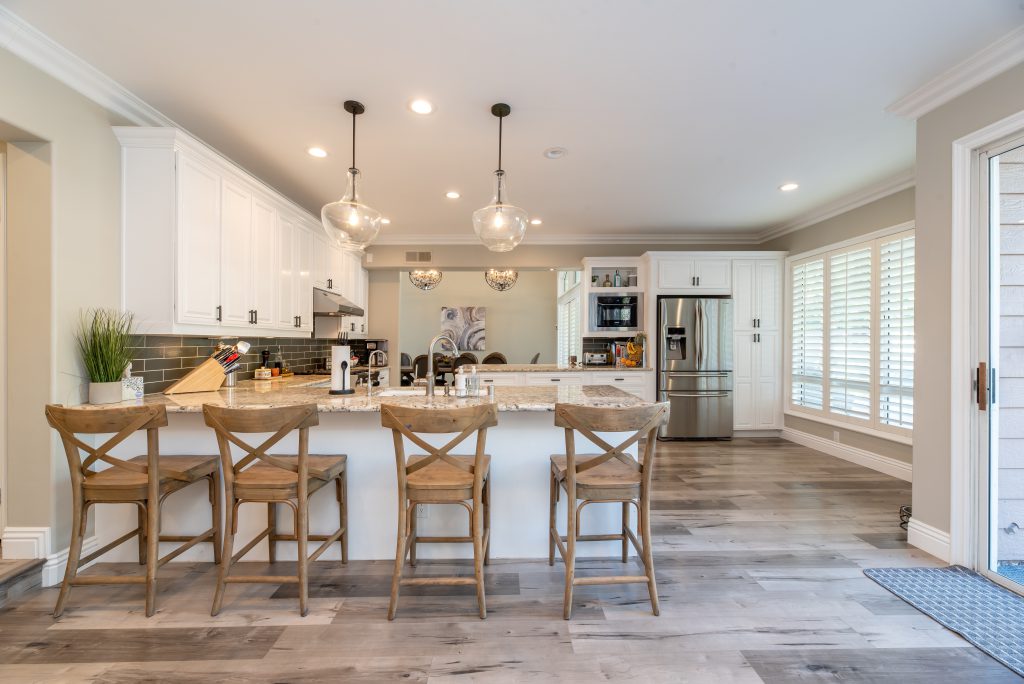 That's why its so important to narrow down exactly what you see yourself doing in this space! Here are some things to consider:
-How do you plan on using it everyday? Does your everyday resemble a busy hang out or is more a place that is just used for cooking?
-Besides cooking, what other daily activities do you like to do in the kitchen? Do you like baking? Watching TV while you work? Need a special space for homework like a desk area?
-Do you like to entertain? If so, you may want to think about a dedicated place for a beverage center that houses a wine fridge, wine glasses, or a coffee bar.
-How much seating do you need? Most kitchens nowadays are eat in kitchens and have an area for an everyday family table, but if you are someone who likes to entertain, maybe you need an island with more seating?
Kitchen Work Triangle
Having a proper flow in your kitchen is critical to make it function. One thing to keep in mind is the distances between each point in your triangle (sink, stove, fridge access points).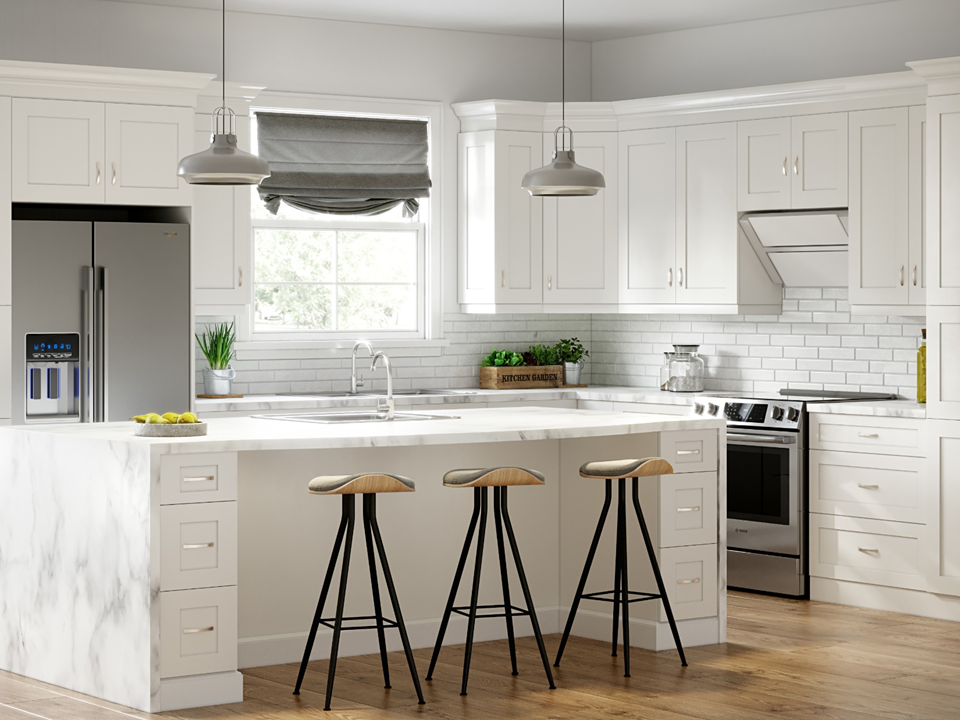 There are many ways to do this but here is a typical work flow triangle for reference, keep things between 40″ – 60″ apart if possible. For detailed layout information go HERE.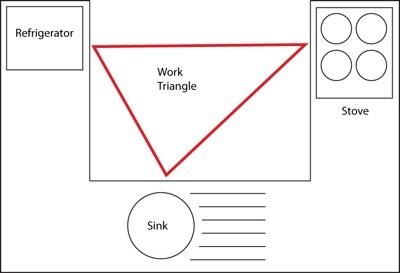 Kitchen Storage
If you don't think about storage now, you sure will wish you did later! No matter what size your kitchen you need to have a plan of how to store your stuff.
What do you use all the time and need easy access to? What can be stowed away that you do not need to use all the time?
-If you use small appliances regularly, think about where would be the easiest place to access them.
-Maybe create an appliance garage with doors that retract, or build a large pantry with pull-out drawers to easily lift out items where they can sit without using up counter space.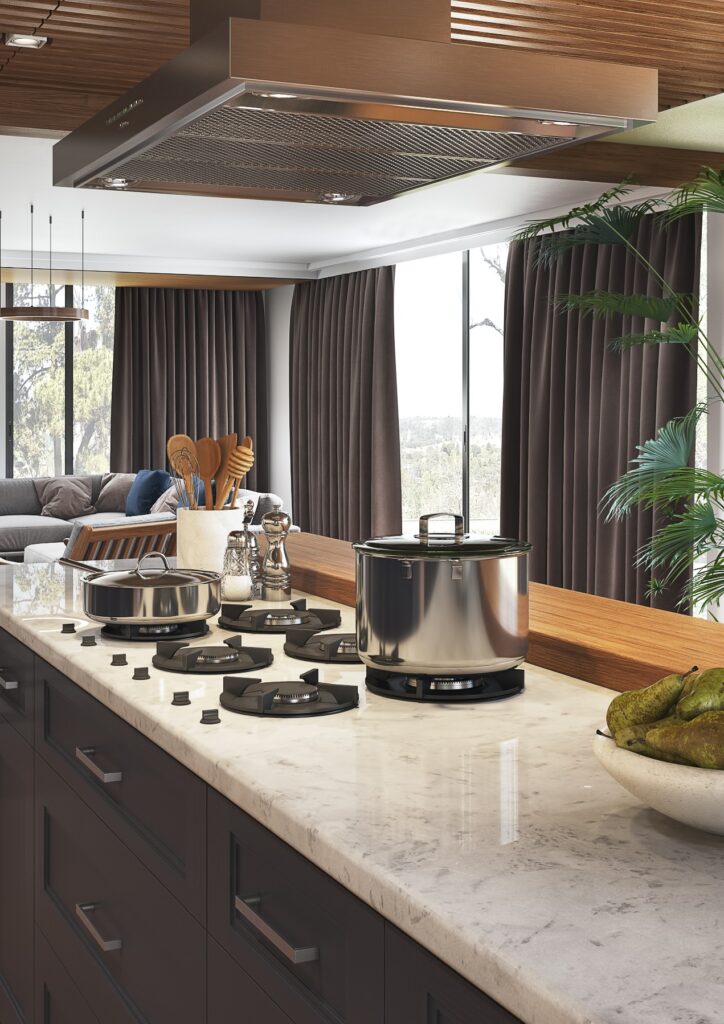 -Other storage solutions that can make your kitchen function with ease could be pots and pans drawers, pantries with pull-out shelves, or walk-in pantries and spice racks
-what height and where do you like your plates, glasses, mugs, utensils?
Kitchen Lighting
There are 3 recommended types of lighting for every kitchen renovation.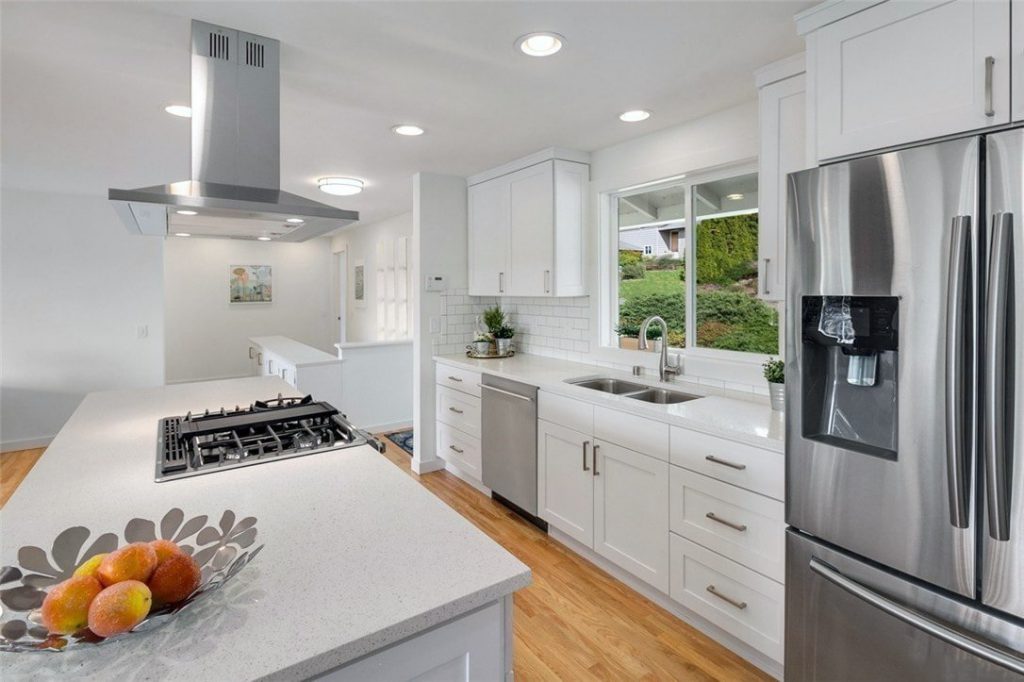 General Lighting. This is what lights up the entire space like pot lights. Add dimmer switches for versatility. Pendant lights over islands, or chandeliers over tables are also an example of general lighting, but we tend to use more statement pieces here that lend a decorative touch.
Task Lighting. Lighting that helps preform certain tasks. Under-cabinet lighting is an example of task lighting that a lot of people tend to skip, and its so important! Shadows from overhead lighting can often be cast underneath the cabinets, making prep work on the counters difficult, even dangerous if your finger didn't see the blade of the knife coming! Integrating your lighting within your cabinet design will lead to a seamless look. Another place that task lighting is often overlooked is over the sink.
Accent lighting. This is the lighting thats not really necessary for function, but highlights the wonderful design of your kitchen, which you are going to want to show off! Uplighting, or lighting in glass cabinets are a great example of accent lights. Under cabinet lighting is necessary for tasks, but can also accent your upper cabinets and countertops beautifully.
Kitchen Appliances
Choose kitchen appliances ahead of time! Until you know what kind of appliances you want to put in your kitchen, you wont be able to properly determine your layout.
If you like to cook you may want to opt for a 6 burner stove or cooktop. Do you prefer gas or electric? When choosing your range or cooktop, there are stand alone options that usually have the controls at the back, or slide in options with the controls at the front. What kind of range hood do you prefer? An insert or a chimney hood? If you are a baker, double wall ovens may be the way to go.
Refrigerators also widely vary in size and depth. You can get counter-depth options for a more built-in look, standard depth, or built-in appliances that can be covered with door fronts that match you cabinetry for a seamless look.
Do you use your microwave a lot? You may want to invest in a built-in option. As you can see there are so many options available for appliances that factor into the overall design of your kitchen.

Want to Renovate the Kitchen and Don't Know Where to Start?!
The team at Today's Designer Kitchens in St. Catharines can assist you wherever you are in your kitchen renovation journey. We design, supply all materials and do full installations.
Call us today or fill out an online form to get an absolutely no obligation home consultation and quote and don't forget we do it all from floor to ceiling and everything in between for your kitchen renovation including wall removal.
ABOUT US

The team of professionals at Today's Designer Kitchens are dedicated to bringing high quality full service kitchen renovations that are affordable beautiful and functional.
We undertake work in all scopes and budget ranges and provide a full service kitchen solution from floor to ceiling.
Visit Our Showroom M-F 10 am-4 pm.
Address: 239 Carlton St Suite #1, St. Catharines, ON L2R 1S1
Phone: 905-641-2284