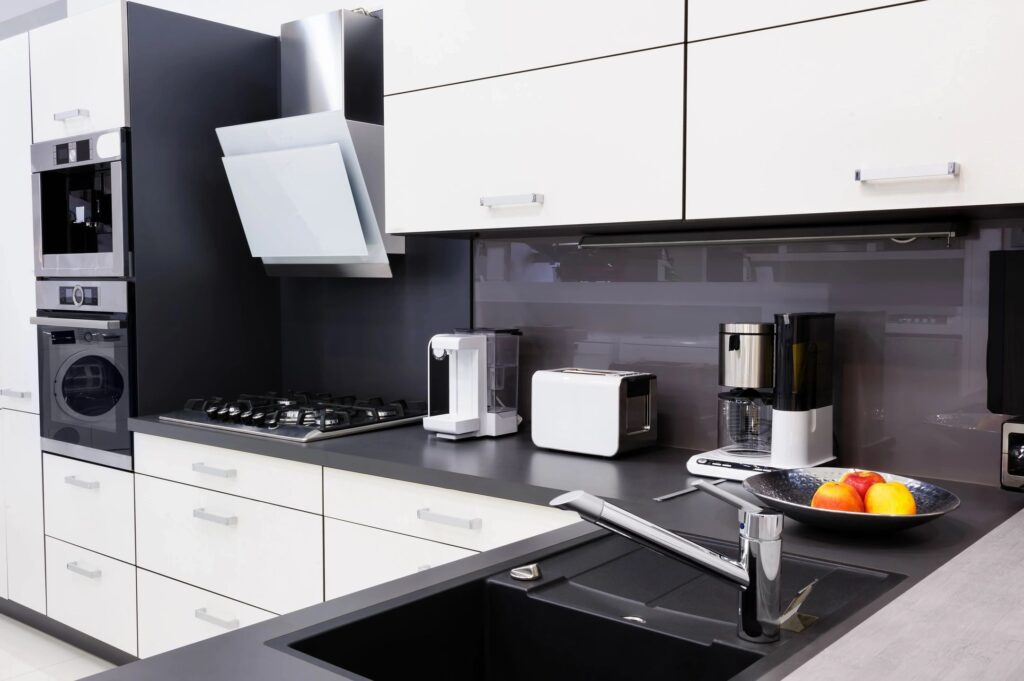 If you've been dreaming of remodeling your kitchen, here are four key things you need to consider to make your project a success.
Layout
The layout of your kitchen is the most important part of your kitchen remodel.
Since kitchens are used a lot, it is important that the workflow is efficient and works for your needs. A key element here is to use the "work triangle" which takes into consideration the the efficiency between the three major kitchen appliances: the refrigerator, the sink, and the stove. The "work triangle" is a great tool to use when planning your kitchen layout. (see below)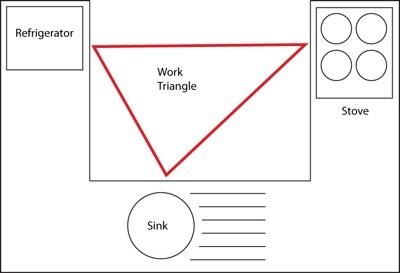 Materials and Finishes
Budget comes into play with the materials and finishes you use, but remember spending more is not always necessary to get the look you want.
Major decisions that need to be made for a kitchen remodel include: countertop material, cabinetry, and flooring. Material options can dramatically range in prices, so it is important to do your research on each option.
Some popular countertop materials include granite, quartz, laminate, concrete, and marble. Flooring options range from ceramic tile, hardwood, linoleum, vinyl, among many others. Cabinets are also available in a wide range of materials including: solid wood, plywood panel, aluminum, wood veneer, and polyethylene.
(Below a galley style kitchen finished in economical Step Shaker White Cabinets made of durable High Density Fibreboard.
Lighting
We can't always have ideal window lighting in a kitchen but we can add brightness with proper light installation.
Kitchens require lots of light for safety when cooking and lighting can set the tone for the entire space (making it important from a design perspective).
There are many lighting options for your kitchen including can lights, pendant lights over a bar/breakfast bar area, and under-cabinet lighting. Lighting is also a good way to make some energy-efficient choices through choosing LED or fluorescent bulbs.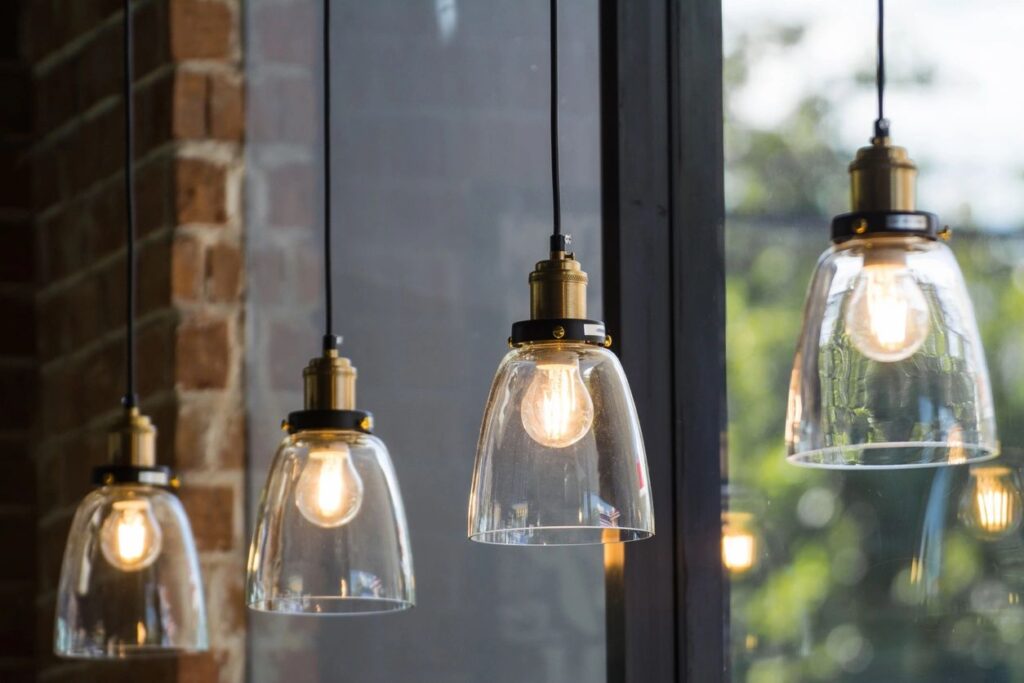 The Small Things Make a Big Impact
The smaller things, ie. finishing touches can make or break a space.
Some finishing touches to keep in mind are: paint colour, seating options, backsplash, as well as other decorative items like pictures, shelving or plants.
A good rule of thumb is to contrast your cabinet colour with your paint colour to add some dimension to your space.
Your backsplash should contrast with your cabinet and countertop, as well as to add visual interest to the space. Of course if you prefer muted tones, you can switch this up.
The finishing touches of the space are a great place to let your personality shine through.
(Below a traditional white subway tile is inexpensive yet packs a punch when set against the dark Step Charcoal Grey Cabinets. The mix and match countertops add visual interest and personality to the kitchen space).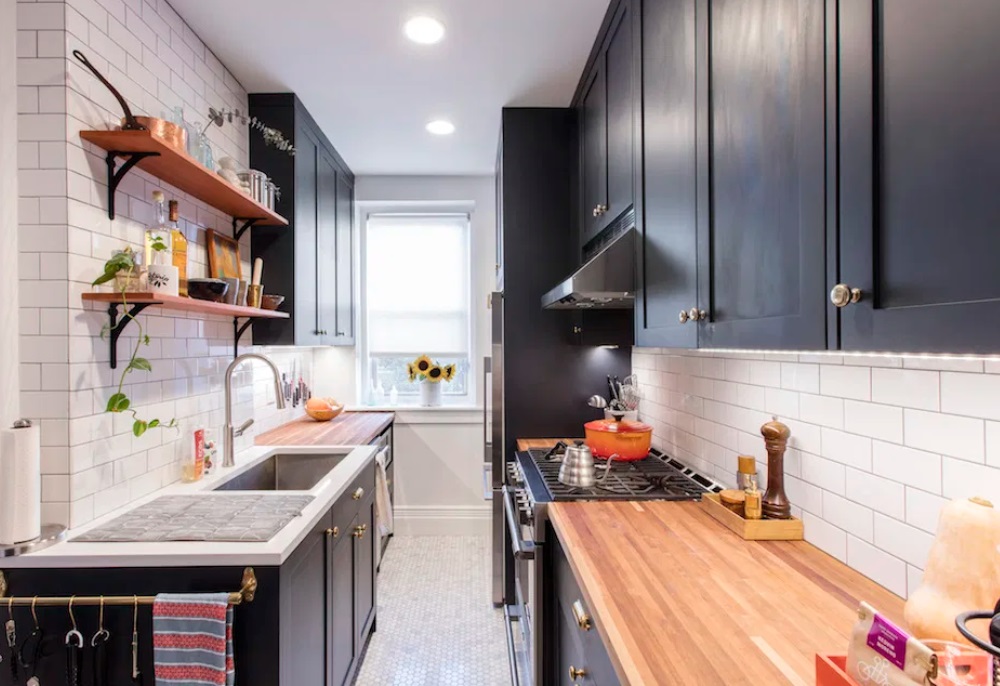 There are many factors that have to be considered in a kitchen remodel, including: layout, materials, lighting, and the finishing touches.
FINAL THOUGHTS: A kitchen remodel can be an overwhelming and stressful project if it is not planned out, which is why it is important to consider getting a professional's opinion and guidance.
At Today's Designer Kitchens, we specialize in the design, supply and installation processes of kitchens across the Niagara Region at unbeatable prices with a fast turnaround.
If you'd like to find out more, or get a free in-home quote from one of our renovation experts, please fill out the form below and we will get back to you promptly.
CONTACT US
About Today's Designer Kitchens
Today's Designer Kitchen was created with a vision to give customers: high quality full service kitchen renovations that are affordable and stress free.
Today's Designer Kitchens and Twoday's Bathrooms have been providing quality home renovations to the Niagara Region for over 10 years and guarantee their customers the best renovation experience at the most competitive prices in the market.
We undertake work in all scopes and budget ranges.
Today's Designer Kitchens Showroom
239 Carlton St Suite #1
St. Catharines, ON
L2R 1S1
905-641-2284www.todaysdesignerkitchens.ca