Here is how we created a dream kitchen in the Niagara Region that was stunning, affordable and quickly turned around.
The Vision
It all started with a home in St. Catharines that had fantastic bones, but like many older residence's had an unappealing layout and old furnishings.
Dingy appliances, old porcelain floors, florescent lighting, wall paper, worn laminate and wood paneling were some of the highlights from this kitchen which had definitely seen better days!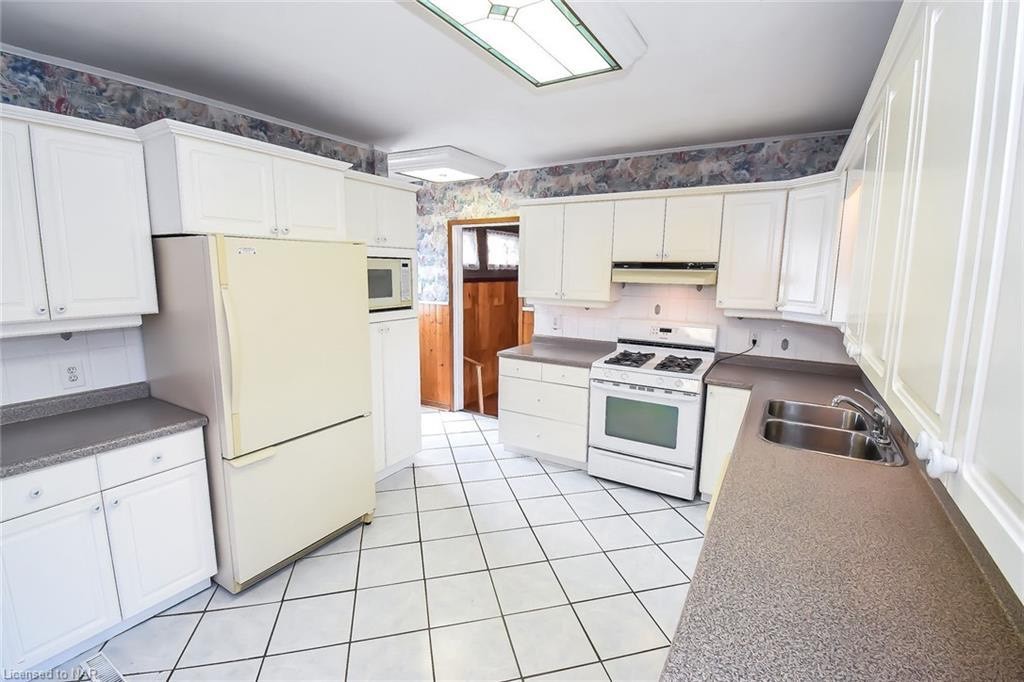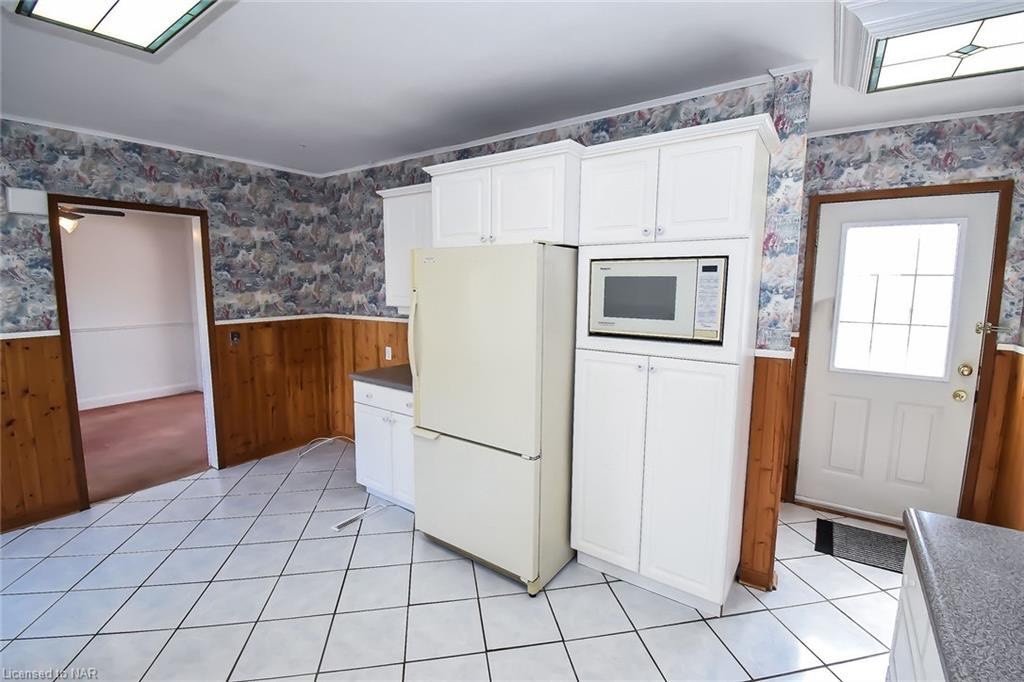 Our team at Today's Designer Kitchens began the renovation process with a vision that included taking down a wall for an open floor plan layout, choosing neutral colour palettes to maximize the space and deciding on the addition of a large island to add visual impact as well as adding needed dining space.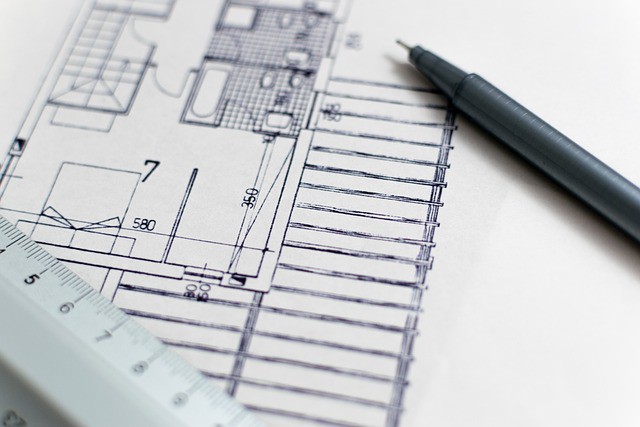 Our design team quickly found opportunities to not only increase the space of the kitchen but add modern elements that would make it perfect for the homeowners.
Cabinets and Accessories
With a design plan in motion that everyone was happy with, it was decided that Bermuda White Cabinets would be a beautiful choice in the new layout with Step Grey Cabinet accents to add dimension and style.
A waterfall island (a kitchen island where the countertop edge flows to the side of the island's body) would anchor the whole design with granite counters, quartz would make up the bulk of the cabinet countertops and layered lighting underneath the counters, over the island and in the ceiling would provide a multi functional kitchen with class.
Demolition
At Today's Designer Kitchens our design, supply and installation process kicks into high gear once we figure out the plan and then get to the demolition.
Our team of qualified installers got to work reconfiguring the space; wiring, plumbing, installing cabinets, counters and then painting so that the whole project was completed in two weeks from start date.
What a transformation!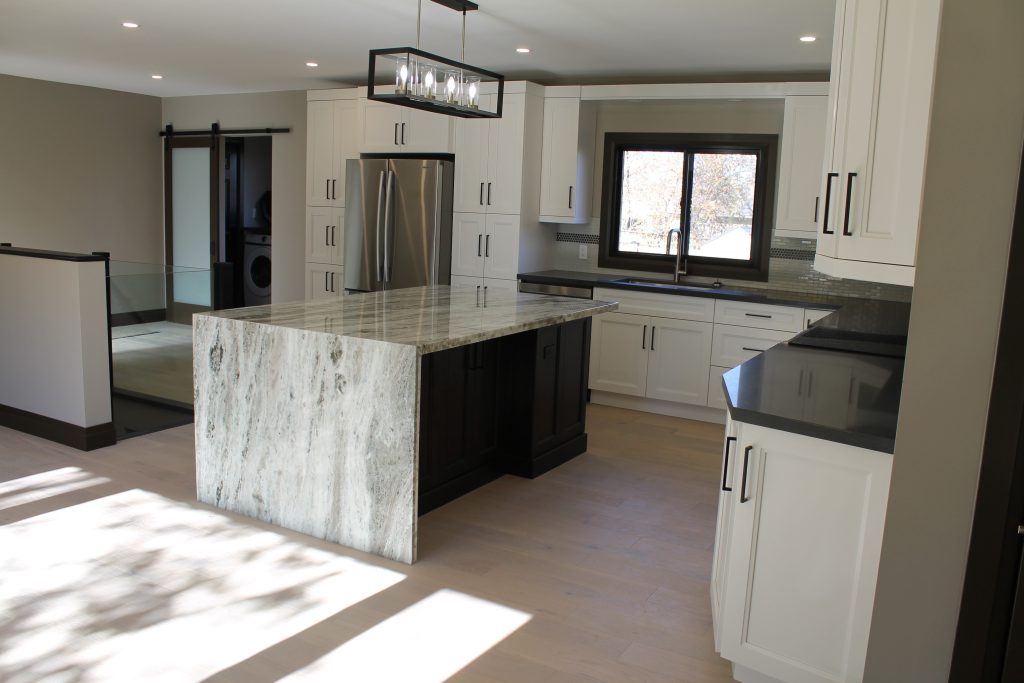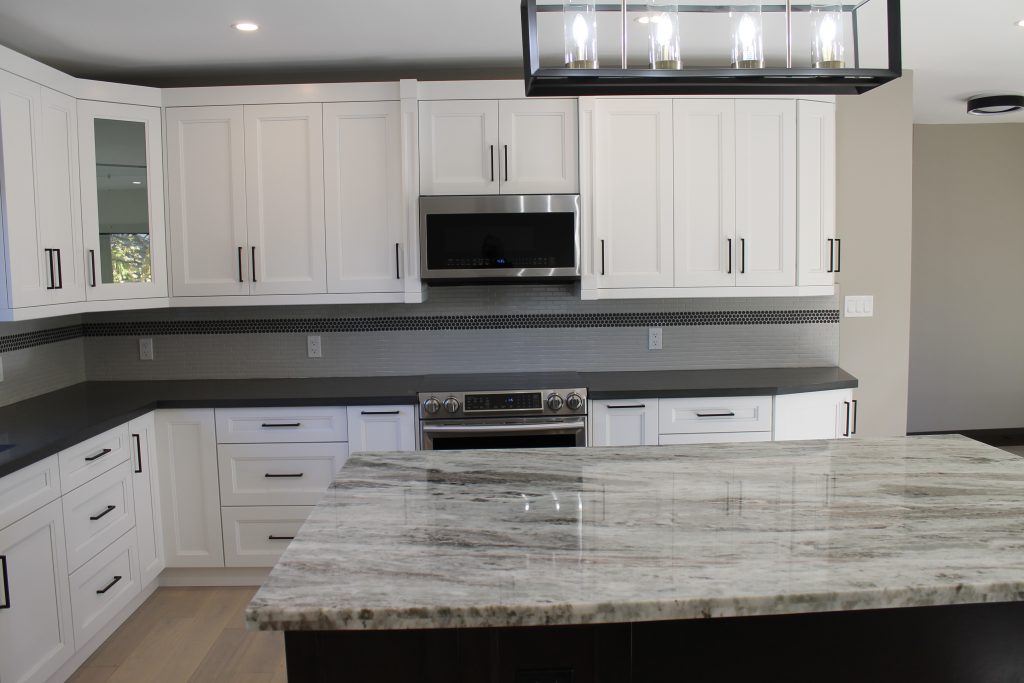 Products We Used
The Bermuda White and Step Charcoal Grey cabinets are highlighted with Antique Brass black handles, glass inserts, and simple subway tiles for a backsplash.
Stainless steel appliances and premium counters blended seamlessly in earth tones keep the kitchen bright yet soft. Dove Grey paint on the walls added to the warm ambience.
Positioning the kitchen around the large sun drenched living room window adds dimension and light. Tarkett Fiber Floors in natural wood provide stylish and long lasting flooring.
Bright white ceiling dimmable potlights, and a modern black box light above complete the incredible transformation of this home and give it many "moods" for all occasions.
If you have a kitchen in the Niagara Region and are interested in creating your own dream space, we welcome you to contact us for a FREE home consultation and quote today!